The German Indiana Jones: Out of the Rat Trap: Desert Adventures with Rommel by Max Reisch
The German Indiana Jones: Out of the Rat Trap: Desert Adventures with Rommel by Max Reisch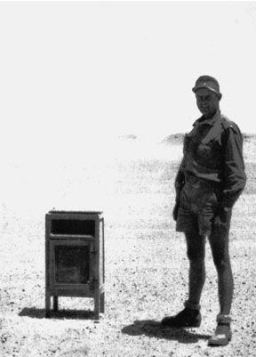 Why, you ask, am I reviewing a book by a former Africa Korps officer?
Partly, this:
What should we see in the middle of the desert but a bedside cabinet! Yes, really… the picture is pointless because all it shows is a single piece of furniture. There's nothing to prove that it is standing in the middle of the Libyan desert. But you can take my word for it… because no human brain could be capable of inventing something so idiotic.

Reisch, Max. Out of the Rat Trap: Desert Adventures with Rommel.
But also because it reads like something Edgar Rice Burroughs might have written.
In a classic ERBish foreword, Reisch describes how he wrote the manuscript high in the Italian mountains. The Nazis were in retreat, and this seemed like a good place to wait out the mayhem and surrender on his own terms. To pass the time, he purchased writing materials from a local farmer and recounted his escape from another military disaster — the collapse of the Africa Korps.
As we read, we discover that he's the German motorised Indiana Jones, with pre-war capers including biking from Vienna to Bombay.
Come World War II, he found himself in the desert, helping run transport for Rommel's army. This meant scavenging abandoned British equipment picked up during long missions into the desert flank.
When he and his friends realised that the Afrika Korps was pretty much doomed, they started planning to escape — though honor demanded they wait until the final collapse. The first option was by land to Free French territory. They did a practice run as far as Siwa, discovering the settlement there to be something of a time warp. Then, as the Germans were pushed and squeezed, Reisch taught himself to navigate, and made his escape through the British blockade in a small — very small — boat with a motley crew that included a dog.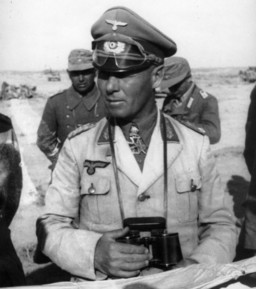 In the mean time, they had hair-raising adventures which included dodging the Long Range Desert Group and rescuing soldiers from a plane ditched in the sea, all the while showing us defeat from the inside.
And they took pictures. (They're tucked away uselessly at the back of the ebook; don't miss them.)
So this book is worth reading in its own right. It hits all the pulp-era notes, with quirky tales of fraternity in adversity, exotic locations, brave or foolhardy  adventures; what a friend of mine calls "testosterone poisoning."
At the same time, this is source material for writers trying to hit the right steampunk cultural vibe. Reisch is like us. His writing style is modern. He rides motorcycles and jeeps.
At the same time,  his mentality belongs to the 1900s.
For purely self-image reasons, Reisch refuses to be a POW. However, soldierly honor demands that he and his mates must not be deserters. They don't leave North Africa until the world is pretty much exploding around them. Even on a 5m boat sneaking through the Allied blockade while  similar craft get blown up around them, military etiquette persists. Reisch is the only man aboard who could be charitably described as approaching being a sailor (having read some manuals and made a short practice trip or two), but his CO is the formal "captain" and also gets to bring all his baggage.
Oh, and for this perilous voyage, Reisch chooses to wear his dress uniform.
Because.
---
M Harold Page (www.mharoldpage.com) is a Scottish-based author and swordsman with several Historical Adventure books in print. His creative writing handbook, Storyteller Tools: Outline from vision to finished novel without losing the magic is available on Amazon.