New Treasures: Lagoon by Nnedi Okorafor
New Treasures: Lagoon by Nnedi Okorafor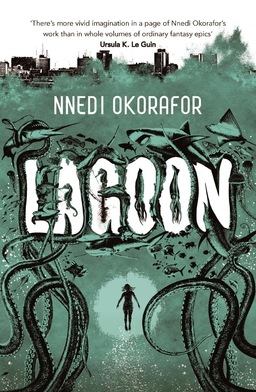 When Nnedi Okorafor's first novel for adults, Who Fears Death, won the 2011 World Fantasy Award, a lot of people sat up and took notice.
It was also a 2011 Tiptree Honor Book, and a Nebula nominee. She followed it up the same year with her third YA title, Akata Witch, a Junior Library Guild Selection and an Andre Norton Award nominee. Her first collection, Kabu Kabu, appeared from Prime Books in 2013 — with a foreword by Whoopi Goldberg.
But it's her second novel for adults that looks like it will really put her on the map. A tale of a strange alien invasion just offshore of the Nigerian city of Lagos, Lagoon has been getting a lot of the right kind of attention. It's not yet for sale in the US, but it's worth the effort to track drown a copy of the British edition.
Three strangers, each isolated by his or her own problems: Adaora, the marine biologist. Anthony, the rapper famous throughout Africa. Agu, the troubled soldier. Wandering Bar Beach in Lagos, Nigeria's legendary mega-city, they're more alone than they've ever been before.

But when something like a meteorite plunges into the ocean and a tidal wave overcomes them, these three people will find themselves bound together in ways they could never imagine. Together with Ayodele, a visitor from beyond the stars, they must race through Lagos and against time itself in order to save the city, the world… and themselves.
Lagoon was published in the UK by Hodder Paperbacks on Sept 25, 2014. It is 301 pages, priced at £8.99 in trade paperback, and £3.99 for the digital edition. The cover is by Joey Hi-fi.