Goth Chick News: Redrum the Musical? Thank You Santa!
Goth Chick News: Redrum the Musical? Thank You Santa!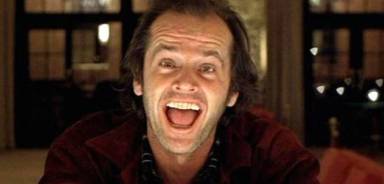 You don't have to hang around Black Gate for long to know that The Shining is my favorite horror movie of all time. So it goes without saying that today's news is proof positive that Santa is real, I've been really good, and he wants me to be happy.
Indy film writer Joe Lovero, a former auto insurance salesman who sold a full-length screenplay to Universal Studios, began work on a musical parody of The Shining entitled REDRUM: The Unauthorized Musical Parody of 'The Shining,' back in 2009. After several years developing the show with composer Jon Hugo Ungar, they decided it was time to put the concept to the test by recording song demos and film a scene to promote the project.
They landed Broadway actor and three-time Tony Award nominee Marc Kudisch to play Jack Torrance in musical short film of REDRUM, which was released in October of last year. The short parodies the scene from the film version of The Shining between Jack and Delbert Grady in The Overlook Hotel's red bathroom and features the original songs "Correct Them" and "You've Turned On My Light."
I nearly killed myself laughing.
Apparently I wasn't alone, because less than a year later Lovero has an honest-to-goodness, green-lighted project chock full of real Broadway musical/Hollywood types and is gearing up to hit the stage for Halloween, 2015.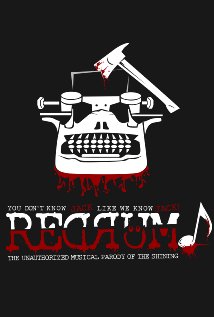 There was a sneak peek of the piece last Wednesday night at Pearl Studios in NYC and though I would have axed my way through the lobby to attend, I'll have to be content with the press release:
The sick and twisted characters of The Overlook Hotel have been resurrected. However, this time with some in your face, laugh out loud singing credentials. The Stephen King horror novel, turned Stanley Kubrick film classic, turned musical parody, showcases Tony Award winner Alice Ripley (Next to Normal) as Wendy and Tony Award nominated actor and Douglas Sills (The Scarlet Pimpernel) as Jack. The musical features book and lyrics by Joe Lovero (Book of Leo) and composer extraordinaire Jon Hugo Ungar.

Writer/Director, Lovero, is elated to bring this quick-witted musical to life: "REDRUM was born like most major works of musical theater – drunken spouses on their 2nd (3rd?) bottle of wine, watching one of their favorite horror movies for the 1,000th time, crying out ridiculous song ideas while wondering, "why hasn't anyone turned this into a campy musical yet?!" This of course leads to the next logical step, a 2:30am Craigslist post from a sleep deprived writer/director, seeking a composer to "make beautiful musical theater with" – because everyone knows all great composers seek work on Craigslist from writers that promise to pay them with his wife's legendary meatballs."
So here is the original short Lovero used to successfully promote his project. After you've enjoyed it (and I'm sure you will), follow the musical's progress to the stage via their Facebook page, then make plans to meet me in the American Airlines lounge next October.
I'll buy the first round.
---
As I've already established my standing with the big guy in the red suit, it's probably a good time to quit while I'm ahead. Goth Chick News will be on hiatus for the next two weeks but will return with all the news from the underground subculture on Thursday, January 8th. Happy Holidays!