New Treasures: Hidden by Benedict Jacka
New Treasures: Hidden by Benedict Jacka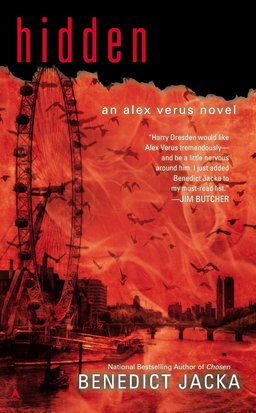 Benedict Jacka's first Alex Versus novel, Fated, was published by Ace on February 28, 2012. He's kept up a regular schedule since, with four more following over the last two years: Cursed, Taken, Chosen, and now Hidden.
They've gradually been gathering some acclaim, too. In a starred review of Chosen, Publishers Weekly said "Jacka puts other urban fantasists to shame." It called Cursed "An even more impressive tale of gunplay and spellcraft in present-day London… [a] tasty blend of magic, explosions, and moral complexity." And Patricia Briggs, author of Shifting Shadows, called the opening volume in the series "A stay-up-all-night read." I haven't been able to keep up with the latest in urban fantasy over the past five years, but the Alex Versus novels are definitely near the top of my list.
With his talent for divining the future, Alex Verus should have foreseen his friends' reactions to the revelations about his previous life. Anne Walker no longer trusts him—and has also cut all ties with the mage community after getting kicked out of the apprentice program. As a favor to Luna, Alex's own apprentice and Anne's best friend, he checks in on her only to be told to leave her alone.

Then Anne gets kidnapped. The Council Keepers of the Order of the Star believe Dark mages from her past may be involved. Working with the Keepers, Alex and Luna discover that Anne has been taken into the shadow realm of Sagash, her former Dark mage mentor, and they must find a way to rescue her.

But another shadow from the past has resurfaced—Alex's former master may be back in London, and Alex has no idea what his agenda is…
Hidden was published by Ace Books on September 2, 2014. It is 293 pages, priced at $7.99 in paperback and $6.99 for the digital edition.