Uncanny Magazine Issue 1 Now on Sale
Uncanny Magazine Issue 1 Now on Sale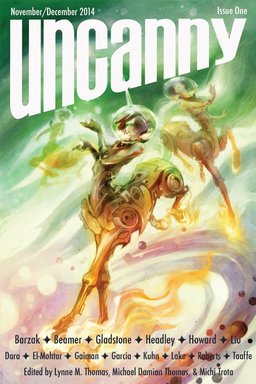 With all the bad news swirling around genre magazines over the past few years, I can't tell you how uplifting it is to celebrate the arrival of a brand new magazine — especially one as promising as this.
Uncanny is a bimonthly magazine of science fiction and fantasy, showcasing original fiction from some of the brightest stars in the genre, as well as reprints, poetry, articles, and interviews. The first issue, cover-dated November/December 2014, is on sale today. It contains new fiction by Maria Dahvana Headley, Kat Howard, Max Gladstone, Amelia Beamer, Ken Liu, and Christopher Barzak, plus a reprint from Jay Lake. There's also articles by Sarah Kuhn, Tansy Rayner Roberts, and Christopher J Garcia, and a special Worldcon Roundtable featuring Emma England, Michael Lee, Helen Montgomery, Steven H Silver, and Pablo Vazquez. The issue also contains poetry by Neil Gaiman, Amal El-Mohtar, and Sonya Taaffe, and interviews with Maria Dahvana Headley, Deborah Stanish, Beth Meacham on Jay Lake, and Christopher Barzak.
If that's not enough, the magazine's staff has also produced two stellar podcasts. Episode 1, released today, features the Editors' Introduction, Maria Dahvana Headley's "If You Were a Tiger, I'd Have to Wear White" and Amal El-Mohtar's poem "The New Ways" (both read by Amal), as well as an interview with Maria conducted by Deborah Stanish. Episode 2 (coming December 2) will contain an Editors' Introduction, Amelia Beamer reading her story "Celia and the Conservation of Entropy," Sonya Taaffe's poem "The Whalemaid, Singing" (as read by Amal El-Mohtar), and an interview with Amelia conducted by Deborah Stanish.
Uncanny was funded by a successful Kickstarter campaign that had over 1,000 backers and raised over $36,000 (surpassing its goal by over $10,000.) The magazine is available for purchase as an eBook in PDF, EPUB, and MOBI formats. If you're the type of buyer who needs to sample things first, the website features free content that will be released in two stages — half on November 4 and half on December 2.
Uncanny is published and edited by Lynne M. Thomas and Michael Damian Thomas. The first issue is priced at $3.99; order directly from the website. The cover is by Galen Dara.