Miracles, Mystery, and the Ghost of Hank Williams: Steve Earle's I'll Never Get Out of This World Alive
Miracles, Mystery, and the Ghost of Hank Williams: Steve Earle's I'll Never Get Out of This World Alive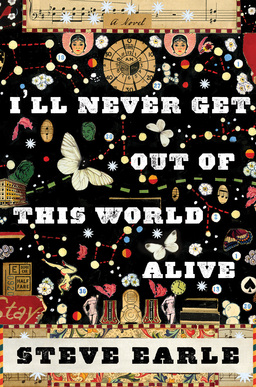 Fantasy is an odd genre, filled with surprises.
I was browsing the remainder table at Barnes and Noble earlier this month, when I stumbled on a dark fantasy featuring ghosts, mystery, drug addiction… and miracles. The author was none other than singer Steve Earle (Copperhead Row), who's had his own battles with heroin addiction. I'll Never Get Out of This World Alive is Earle's only novel (he published one collection of short stories, Doghouse Roses, in 2001), and the back cover was plastered with enthusiastic reviews from The New York Times, USA Today, Rolling Stone, and even Patti Smith. But it was the brief book description that won me over.
Doc Ebersole lives with the ghost of Hank Williams. Literally.

In 1963, ten years after he may have given Hank the morphine shot that killed him, Doc has lost his license. Living in the red-light district of San Antonio, he performs abortions and patches up the odd knife wound to feed his addiction. But when Graciela, a young Mexican immigrant, appears in the neighborhood in search of Doc's services, miraculous things begin to happen. Everyone she meets is transformed for the better, except, maybe, for Hank's angry ghost — who isn't at all pleased to see Doc doing well.
Legendary American singer Hank Williams died — at the ripe old age of 29 — in 1953, and on the night he died, a doctor did indeed give him an injection of vitamin B12 mixed with morphine. I think we can safely assume the book departs from reality after that point, however.
Steve Earle is something of a Renaissance man. In addition to being a singer-songwriter, record producer, and author, he's also an actor. He's appeared on two HBO series, The Wire and Treme, and briefly appeared on 30 Rock. His fourteenth studio album, also titled I'll Never Get Out Of This World Alive, arrived in 2011. On September 16, The Wrap reported that Chris Hemsworth (Thor) will star in and produce a film adaption of I'll Never Get Out of This World Alive. It was published by Mariner on May 22, 2012. It is 256 pages, with a cover price of $13.95 in trade paperback. I bought my copy remaindered for $4.98.