Devon Monk's House Immortal is Based on her Black Gate Short Story "Stitchery"
Devon Monk's House Immortal is Based on her Black Gate Short Story "Stitchery"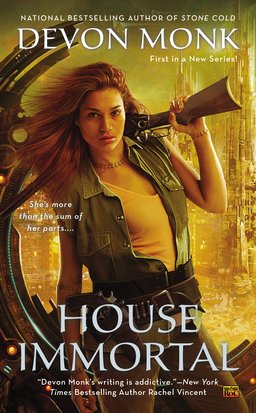 Last month, I reported on Devon Monk's newest novel, House Immortal, the tale of Tilly Case, one of thirteen unfathomably strong creatures stitched together nearly a century ago, who finds herself tangled up in a deadly struggle between powerful Houses for dominion over death itself. One of the things I commented on in my article was the intriguing resemblance between House Immortal and the excellent short story I bought from Devon nearly 15 years ago, "Stitchery." On her blog this week, Devon confirmed the connection.
[House Immortal] isn't a "standard" urban fantasy, but more like a science-fiction-y urban fantasy. But even though it's set in the future a bit, it still (I hope) reads like urban fantasy, with a strong female lead character, some butt kicking, some humor, some trouble that could spell out the end of a world or two, and a host of interesting people and places.

Publisher and Editor John O'Neill at Black Gate noted here, that it reminded him of "Stitchery" the first short story he bought from me for Black Gate. I'm so happy he noticed! The series is based off of that short story, (albeit loosely) and Matilda, Neds, and Grandma were all first introduced in that short.

Now, the novel went quite a different way than the short story, so I think of the short story as an alternate timeline Matilda may have lived, but not the timeline she is living in the trilogy.

If you want to check it out ("Stitchery" also was chosen for David Hartwell's Year's Best Fantasy #2) you can find it in Black Gate #2, or in my short story collection: A Cup of Normal.
I'm very proud to see Devon nurture the terrific story idea she had for "Stitchery" into something far more ambitious. Check out her complete comments on her blog here. House Immortal was published on September 2 by Roc Books. It is 351 pages, priced at $7.99 for both the paperback and digital versions. The cover artist is not credited. The second volume, Infinity Bell, is scheduled to be published on March 3, 2015.