New Treasures: House Immortal by Devon Monk
New Treasures: House Immortal by Devon Monk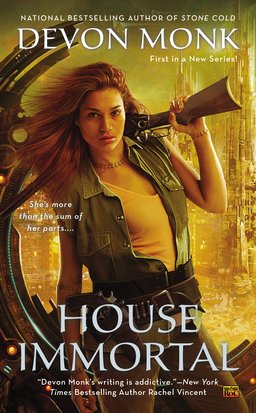 The first story I ever bought for Black Gate was by Devon Monk.
I was probably more excited than she was. "Stitchery," the tale of a young woman struggling desperately to hold her farm together, and drawing on her unique ability to create new creatures from the flesh of dead ones, eventually appeared in Black Gate 2, and was selected for David Hartwell's Year's Best Fantasy 2.
I've been following Devon's career ever since — and an impressive career it's been, too. Since her appearance in BG 2 she's published over a dozen novels in three different series: Allie Beckstrom, Broken Magic, and the steampunk Age of Steam books.
Now she kicks off a brand new fantasy series, House Immortal, an intriguing take on the legend of Frankenstein, featuring a main character who's been stitched together into an immortal body… it reminds me of that excellent story I bought from a promising new writer, all those years ago.
One hundred years ago, eleven powerful ruling Houses consolidated all of the world's resources and authority into their own grasping hands. Only one power wasn't placed under the command of a single House: the control over the immortal galvanized….

Matilda Case isn't like most folk. In fact, she's unique in the world, the crowning achievement of her father's experiments, a girl pieced together from bits. Or so she believes, until Abraham Seventh shows up at her door, stitched with life thread just like her and insisting that enemies are coming to kill them all.

Tilly is one of thirteen incredible creations known as the galvanized, stitched together beings immortal and unfathomably strong. For a century, each House has fought for control over the galvanized. Now the Houses are also tangled in a deadly struggle for dominion over death — and Tilly and her kind hold the key to unlocking eternity.

The secrets that Tilly must fight to protect are hidden within the very seams of her being. And to get the secrets, her enemies are willing to tear her apart piece by piece.…
Click on the book cover at right, and you'll see the subtle stitches on the cover model. I have to admit they look better on her than they did on Boris Karloff.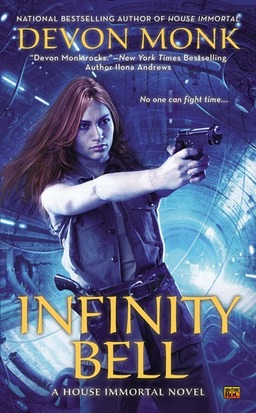 The second book in the series, Infinity Bell, is already scheduled to arrive on March 3 of next year.
Here's the description:
Return to national bestselling author Devon Monk's heartpounding House Immortal series, where eleven powerful Houses control the world and all its resources. But now, the treaty between them has been broken, and no one — not even the immortal galvanized — is safe….

Matilda Case isn't normal. Normal people aren't stitched together, inhumanly strong, and ageless, as she and the other galvanized are. Normal people's bodies don't hold the secret to immortality — something the powerful Houses will kill to possess. And normal people don't know that they're going to die in a few days.

Matilda's fight to protect the people she loves triggered a chaotic war between the Houses and shattered the world's peace. On the run, she must find a way to stop the repeat of the ancient time experiment that gifted her and the other galvanized with immortality. Because this time, it will destroy her and everything she holds dear.

Caught in a cat-and-mouse game of lies, betrayal, and unseen foes, Matilda must fight to save the world from utter destruction. But time itself is her enemy, and every second brings her one step closer to disaster…
It's a very different take for an urban fantasy series. I look forward to trying it out.
House Immortal was published on September 2 by Roc Books. It is 351 pages, priced at $7.99 for both the paperback and digital versions. The cover artist is not credited.
Infinity Bell will be published on March 3, 2015 by Roc Books. It is 368 pages, priced at $7.99 for both the paperback and digital versions.
See all of our recent New Treasures here.