Announcing the Winners of Free Copies of Mark Rigney's Check-Out Time
Announcing the Winners of Free Copies of Mark Rigney's Check-Out Time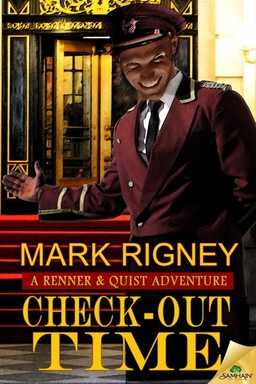 Last month, we told you that you had a chance to win a free copy of Mark Rigney's latest Renner & Quist novel, Check-Out Time. All you had to do to enter was send us an e-mail with the title "Check-Out Time." Two winners were drawn at random this morning from all qualifying entries.
We are pleased to announce the winners are:
Barbara Barrett
Galt, CA

Yusuf S Nasrullah
Boston, MA
Congratulations! You should receive your copies in the next 5 – 10 days. In the meantime, enjoy our feature review by William Patrick Maynard, who called the book "Funny, moving, enlightening, entertaining – Mark Rigney's Renner & Quist series is in a class of its own."
Check-Out Time will be published by Samhain Publishing on October 7, 2014. It is 250 pages, priced at $15 in trade paperback and $5.50 for the digital edition. Be sure to read Mark's article on the series, The Adventure Continues: the Return of Renner and Quist, published right here in February.
Thanks to all those who entered our contest and thanks again to Samhain Publishing and Mark Rigney for making it all possible!