Goth Chick News: Pride, Prejudice and Zombies (and Cersei and Tywin)
Goth Chick News: Pride, Prejudice and Zombies (and Cersei and Tywin)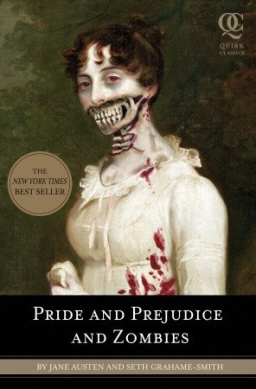 Just in time for the start of the Halloween season, we hear that Pride And Prejudice And Zombies has truly risen from the grave.
Based on the 2009 novel by Seth Grahame-Smith (and Jane Austin of course) P&P&Z tells the tale of "manners, morals and brain-eating mayhem" and has been sitting in movie development hell ever since before the book hit store shelves.
Back then, the British Sunday Times reported that Hollywood was all over Grahame-Smith, which he confirmed at a book-signing just after P&P&Z's release, saying the novel had officially been purchased by an undisclosed major film company to be produced as a feature film.
Lionsgate turned out to be the film company and Natalie Portman was in to star as Elizabeth, but she later reconsidered and decided instead to serve as a producer.  Shortly thereafter, director O. Russell left production due to scheduling conflicts (or Portman's involvement if you believe gossip, which of course we never do…) and Mike White stepped in to direct the adaptation.
But nearly a year later, in January 2011, White also left the project due to "scheduling conflicts" as did his successor Craig Gillespie who signed on in April, 2011 but bailed in October.
What the heck?
Finally, in 2013, Lily Collins (City of Bones) confirmed that the film was still in the works and announced that she would star as Elizabeth.  But things went quiet for nearly a year until  August, 2014 when it was announced that filming would finally begin in September, but with a different Lily playing Elizabeth (Lily James a.k.a Rose from Downton Abbey). Sam Riley signed on as Mr. Darcy, with Bella Heathcote as one of Elizabeth's sisters.
Then this week, Deadline reports on two major developments on the film.
First, that two of Game Of Thrones villains, Charles Dance and the wonderfully evil Lena Headey, have joined the cast, though in which roles we have yet to find out.
And second, Sony Screen Gems has closed a deal for U.S. distribution rights, which means that we'll probably be seeing the film in theaters later in 2015 (Halloween maybe?).  Considering the GoT shooting schedule, P&P&Z is going to have to get serious and wrap before February 2015.
The latest P&P&Z script iteration is by Burr Steers (Pulp Fiction), who is now onboard to direct as well.
Whew… got all that?
Last, according to IMDB, Portman is still listed as one of the producers, which isn't as odd as I originally thought.  Portman has a total of nine producer credits, as well as three director credits.
Who knew?
Do you think P&P&Z will live up to Abraham Lincoln: Vampire Hunter?  I have my doubts if for no other reason than that un-freakin-believable final train sequence: but post a comment or drop a line to sue@blackgate.com and let me know what you think.