New Treasures: The Ghost Pirates and Others: The Best of William Hope Hodgson by William Hope Hodgson
New Treasures: The Ghost Pirates and Others: The Best of William Hope Hodgson by William Hope Hodgson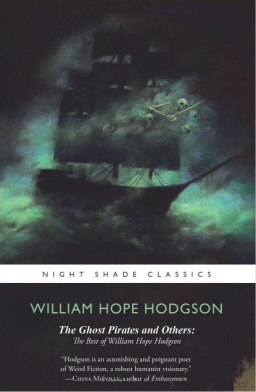 Nearly ten years ago, I bought The Collected Fiction of William Hope Hodgson, a five volume set from Night Shade Books. It's a terrific group of hardcovers, with eye-catching cover art by Jason Van Hollander, and there's no reason anyone who possesses that handsome collection would ever need to spend another penny on William Hope Hodgson.
And yet here I am, shelling out for The Ghost Pirates and Others, a beautiful trade paperback collection of the best short fiction of William Hope Hodgson, selected and edited by Jeremy Lassen. Maybe it's the marvelously spooky cover. Maybe it's the thought of having Hodgson's best, including his finest Carnacki tales and the famous title story, under one cover, where I can curl up with it in my big green chair. Or maybe, as my wife Alice suggests, it's a compulsion and I need psychiatric help. You decide — I'm busy with my latest treasure and will be unreachable for the next few hours.
"With its command of maritime knowledge, and its clever selection of hints and incidents suggestive of latent horrors in nature, [The Ghost Pirates] reaches enviable peaks of power." — H.P. Lovecraft.

William Hope Hodgson was a contemporary of H. P. Lovecraft, and Clark Ashton Smith, and was one of the most important and influential fantasists of the 20th century. His novel The Ghost Pirates is a take-no-prisoners supernatural adventure story that is just as powerful today as it was 100 years ago.

In addition to his landmark novel, this volume contains some of his most influential short fiction; from his supernatural detective Thomas Carnacki to tales of the mysterious Sargasso Sea. The Ghost Pirates and Others is the perfect introduction to the magic, mystery and adventure of William Hope Hodgson.
The Ghost Pirates and Others: The Best of William Hope Hodgson was edited by Jeremy Lassen and published by Night Shade Classics on December 4, 2012. It is 264 pages, priced at $16.99 in trade paperback and $9.99 for the digital edition. The gorgeously spooky cover art is by Matt Jaffe.