New Treasures: Full Fathom Five by Max Gladstone
New Treasures: Full Fathom Five by Max Gladstone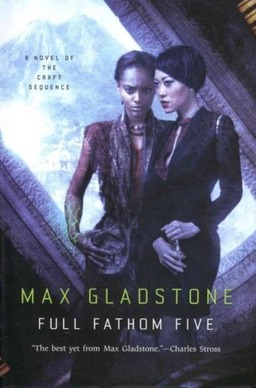 Back in June, I reported on the second novel in Max Gladstone's Craft Sequence. And just in time, too… the third, Full Fathom Five, arrived barely a month later, and I don't wanna appear behind the times (any more than usual, anyway.)
The best description of this series I've found so far is from Elizabeth Bear (no surprise), who says at her blog:
The Craft Sequence books are all about ancient necromancers in charge of corporations; liches running litigation; court battles fought by means of sorcerous contests; deities dueling by means of legal proxies and stock trading souls.
I have several narrative hot buttons when shopping for fantasy and that description punches every one of them. If John Grisham wrote zombie novels, we might have plots as cool as Max Gladstone's. Maybe.
I wrote about the first book in the sequence, Three Parts Dead, in 2012, and Two Serpents Rise in June. The fourth, Last First Snow, is not yet scheduled. Max describes it as follows:
Last First Snow, as the (working) title suggests, is set a bit earlier along the series timeline, and shows the older generation's history. Dresediel Lex teeters on the edge of a knife, riven by protest over controversial zoning legislation, while a younger Elayne Kevarian confronts a tangle of conspiracies, revolutionaries, personal demons, and dead gods.
I can see I'm going to have to set some time aside for that one, too.
If the phrase "Full Fathom Five" tickles your memory, it's likely you're a Jackson Pollack fan (see his massive Full Fathom Five canvas here, just because I think it's cool) or you recall Ariel's Song from Shakespeare's The Tempest. Here it is in its entirety, because you never need an excuse to quote Shakespeare:
Full fathom five thy father lies;
Of his bones are coral made;
Those are pearls that were his eyes;
Nothing of him that doth fade,
But doth suffer a sea-change
Into something rich and strange.
Sea-nymphs hourly ring his knell:
Ding-dong.
Hark! now I hear them — Ding-dong, bell.
Before I forget that this article is about a Max Gladstone title, here's the book blurb:
On the island of Kavekana, Kai builds gods to order, then hands them to others to maintain. Her creations aren't conscious and lack their own wills and voices, but they accept sacrifices, and protect their worshippers from other gods — perfect vehicles for Craftsmen and Craftswomen operating in the divinely controlled Old World. When Kai sees one of her creations dying and tries to save her, she's grievously injured—then sidelined from the business entirely, her near-suicidal rescue attempt offered up as proof of her instability. But when Kai gets tired of hearing her boss, her coworkers, and her ex-boyfriend call her crazy, and starts digging into the reasons her creations die, she uncovers a conspiracy of silence and fear — which will crush her, if Kai can't stop it first.
Full Fathom Five was published by Tor Books on July 15, 2014. It is 383 pages, priced at $25.99 in hardcover and $12.99 for the digital version.
See all our recent New Treasures here.