New Treasures: Two Serpents Rise by Max Gladstone
New Treasures: Two Serpents Rise by Max Gladstone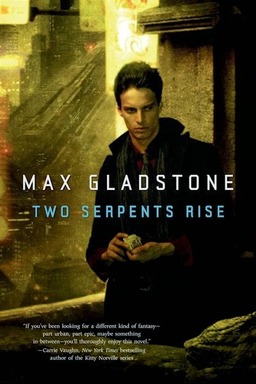 You know what irks me? Writers who write faster than I can read, that's what irks me.
A few years back, I got all excited by Max Gladstone's debut novel, Three Parts Dead, which I described as "a high-stakes tale of dead gods, necromancers, and dark dealings in a richly-imagined urban landscape." Apparently I wasn't the only one — last year Gladstone was nominated for the John W. Campbell Award for Best New Writer and Tor moved quickly to snap up his next novels.
Recently, Tor announced that Full Fathom Five, the third book in what's now known as the Craft Sequence, will be released on July 15, 2014, and Gladstone has already contracted for a fourth, Last First Snow, plus at least one more. Here's how Gladstone summed up the deal on his blog back in February:
The big news hit Publisher's Weekly on Friday: Tor Books has bought two more novels in the Craft Sequence! So, after Full Fathom Five, I get to play more in this world of creepy lawyers, boss skeletons, existential uncertainty and gargoyles and undead gods. The first of the pair is done already — in fact, this morning I finished the fourth draft, a bit ahead of schedule.
Wait, what? I don't even have a copy of the second one yet!
A hasty trip to Amazon rectified that and yesterday Two Serpents Rise finally crossed my humble threshold. It sounds pretty good, too.
Here's the book description.
In Two Serpents Rise by Max Gladstone, shadow demons plague the city reservoir, and Red King Consolidated has sent in Caleb Altemoc — casual gambler and professional risk manager — to cleanse the water for the sixteen million people of Dresediel Lex. At the scene of the crime, Caleb finds an alluring and clever cliff runner, Crazy Mal, who easily outpaces him.

But Caleb has more than the demon infestation, Mal, or job security to worry about when he discovers that his father — the last priest of the old gods and leader of the True Quechal terrorists — has broken into his home and is wanted in connection to the attacks on the water supply.

From the beginning, Caleb and Mal are bound by lust, Craft, and chance, as both play a dangerous game where gods and people are pawns. They sleep on water, they dance in fire… and all the while the Twin Serpents slumbering beneath the earth are stirring, and they are hungry.
With luck, I'll somehow find the time to read this one before Full Fathom Five drops next month. If not, I'm going to be a full two books behind… and then I'll never catch up. Especially if Gladstone keeps writing them at this pace.
Two Serpents Rise was published October 29, 2013 by Tor Books. It is 352 pages, priced at $25.99 in hardcover, $15.99 for the just-released trade paperback, and $9.99 for the digital edition.
See all our recent New Treasures here.