New Treasures: Downfall by Rob Thurman
New Treasures: Downfall by Rob Thurman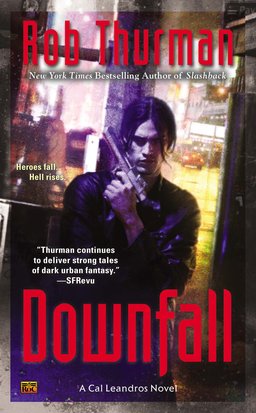 I first met Rob (Robyn) Thurman at Dragon*Con back in 2010, when she had a booth right next to the chaotic and busy Black Gate booth in the Dealer's Room. As Howard put it in his con report, hanging out with Rob was one of the highlights of the con for us — she was charming and funny, and told hilarious tales of cosplay misadventures in a knockout Deadpool costume.
Turns out Rob is also a terrific writer, as I discovered when I finally had a chance to pick up one of her popular Cal Leandros dark urban fantasy novels. The series began with Nightlife in 2006; since then she's published one per year. The ninth and most recent, Downfall, arrived earlier this month. It's not too late to discover this New York Times bestselling series — if you haven't already.
I let it go — all of it. Everything I'd been saving up all my life, building and growing inside me, too much to hold in one half-human body. It pushed and fought to be free with a force that turned me into a bomb with a timer vibrating on zero. I was free.

But so was everything I'd fought so hard not to be….

Brothers Cal and Niko Leandros know trouble when they see it — and then proceed to wipe the floor with it. But now it seems their whole world is falling to pieces. Cal's nightmarish monster side is growing ever stronger, changing Cal physically as well as mentally. Which is exactly what Grimm — Cal's savage doppelgänger — wants. And when a covert supernatural organization decides that it's time to put Cal down before he threatens pretty much everything else in existence, the brothers find themselves in a fight they actually might lose. But the dark temptations Cal has denied all his life may prove to be exactly what can save them.

Even if he must fall forever…
Downfall was published on August 5, 2014 by Roc Books. It is 338 pages, priced at $7.99 in paperback and $6.99 for the digital edition. The cover is by Chris McGrath.