Win a Copy of Peter Watts' Echopraxia
Win a Copy of Peter Watts' Echopraxia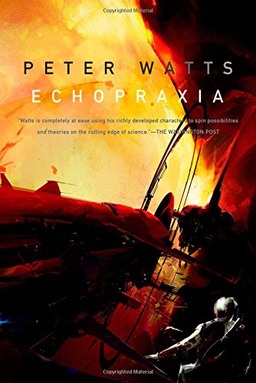 Peter Watts is a fellow Canadian and that makes him cool.
Well, that and the fact that he writes intensely cool SF novels, like the Hugo-nominated Blindsight, which Charles Stross described as "a first contact with aliens story from the point of view of a zombie posthuman crewman aboard a starship captained by a vampire." Any time you can get Charles Stross on record saying "zombie posthuman crewman," you know you're cool. Plus, Ken Levine, the Creative Director for the hit video game BioShock, credits Watts as a significant influence on his game. That's coolness right there.
Watts's latest novel Echopraxia, described as a "sidequel" relating events on Earth during Blindsight, arrives at the end of the month, and Tor Books has been kind enough to offer us a copy to use as a giveaway (Thanks, Tor! You guys are super-cool.)
How do you enter? Just send an e-mail to john@blackgate.com with the title "Echopraxia" and a one-sentence review of your favorite Tor science fiction novel. One winner will be drawn at random at the end of the month from all qualifying entries and we'll publish the best reviews here on the Black Gate blog.
All entries become the property of New Epoch Press. No purchase necessary. Must be 12 or older. Decisions of the judges (capricious as they may be) are final. Not valid where prohibited by law, or outside the US and Canada.
Here's the book description.
It's the eve of the twenty-second century: a world where the dearly departed send postcards back from Heaven and evangelicals make scientific breakthroughs by speaking in tongues; where genetically engineered vampires solve problems intractable to baseline humans and soldiers come with zombie switches that shut off self-awareness during combat. And it's all under surveillance by an alien presence that refuses to show itself.

Daniel Bruks is a living fossil: a field biologist in a world where biology has turned computational, a cat's-paw used by terrorists to kill thousands. Taking refuge in the Oregon desert, he's turned his back on a humanity that shatters into strange new subspecies with every heartbeat. But he awakens one night to find himself at the center of a storm that will turn all of history inside-out.

Now he's trapped on a ship bound for the center of the solar system. To his left is a grief-stricken soldier, obsessed by whispered messages from a dead son. To his right is a pilot who hasn't yet found the man she's sworn to kill on sight. A vampire and its entourage of zombie bodyguards lurk in the shadows behind. And dead ahead, a handful of rapture-stricken monks takes them all to a meeting with something they will only call "The Angels of the Asteroids."

Their pilgrimage brings Dan Bruks, the fossil man, face-to-face with the biggest evolutionary breakpoint since the origin of thought itself.
Echopraxia will be released on August 26, 2014 by Tor Books. It is 383 pages, priced at $24.99 for the hardcover and $11.99 for the digital version. The cover is by Richard Anderson.