Vintage Treasures: Starlight: The Great Short Fiction of Alfred Bester
Vintage Treasures: Starlight: The Great Short Fiction of Alfred Bester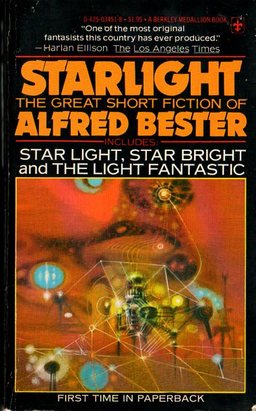 There was a time when Alfred Bester was considered one of the top writers in science fiction and fantasy.
I know. You've never heard of Alfred Bester. Perhaps his greatest novel — The Stars My Destination (1956) — is in print only in an expensive trade paperback edition from a small press, and his classic The Demolished Man (1952), the first novel to win a Hugo Award, is out of print altogether.
Bester's reputation was not built entirely on his novels, however. Before he stopped writing SF, he produced a number of brilliant stories, including "Fondly Fahrenheit" and "Adam and No Eve." His short fiction was gathered in two hardcover collections, The Light Fantastic (1976) and Star Light, Star Bright (1976). Neither had a paperback edition in the US, and both are now long out of print.
Fortunately, they were collected into a huge omnibus edition, Starlight: The Great Short Fiction of Alfred Bester, published in a handsome paperback edition by Berkley Medallion in July, 1977. It's also out of print, but not particularly hard to find — and well worth the effort.
After giving up on the field in the late sixties (which he discusses in the story notes in Starlight), Bester returned to science fiction with three novels in the late 70s and early 80s: The Computer Connection (1975), Golem 100 (1980), and The Deceivers (1981). He died in 1987.
The Science Fiction Writers of America (SFWA) named him its ninth Grand Master, presented posthumously in 1988. He was inducted into the Science Fiction and Fantasy Hall of Fame in 2001.
Here's the complete table of contents for Starlight.
"5,271,009" (1954)
"Ms. Found in a Champagne Bottle" (1968)
"Fondly Fahrenheit" (1954)
"The Four-Hour Fugue" (1974)
"The Men Who Murdered Mohammed" (1958)
"Disappearing Act" (1953)
"Hell Is Forever" (1942)
"Adam and No Eve" (1941)
"Time Is the Traitor" (1953)
"Oddy and Id" (1950)
"Hobson's Choice" (1952)
"Star Light, Star Bright" (1953)
"They Don't Make Life Like They Used To" (1963)
"Of Time and Third Avenue" (1951)
"Isaac Asimov" (1973) [Interview]
"The Pi Man" (1959)
"Something Up There Likes Me" (1973)
"My Affair With Science Fiction" (1974) (essay)
Starlight: The Great Short Fiction of Alfred Bester was published by Berkley Medallion in July 1977. It is 452 pages, originally priced at $1.95. The cover is by Richard Powers. Copies are generally available online for less than the cost of a new paperback.
See all of our recent Vintage Treasures here.