Balance of Power
Balance of Power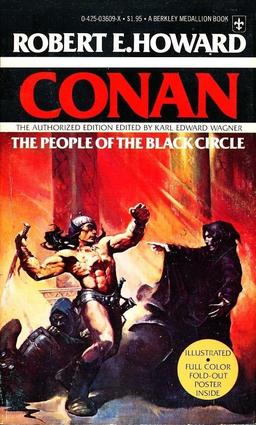 Fantasy is generally about power. Who wields it, who wants it, and the price they pay for it. Magic (the supernatural world) is often the metaphor used for power in fantasy lit. But there are plenty of other kinds, such as fighting prowess, political power, and so on, that can also be incorporated.
In fact, what a fantasy story says about power is usually one of the most important elements to me.
In Robert E. Howard's Conan series, Conan represents the superiority of the barbarism over decadent civilization, and also the power of the individual against society. He is the fulcrum that swings the balance of power away from the rich nations by the force of his will and the strength of his arm. Until, of course, he eventually comes to rule one of those soft civilized nations….
In The Black Company, Glen Cook creates an epic saga about a company of grunts trying to survive during a massive war between supercharged sorcerers. Not only do the soldiers of the Black Company survive, they manage to thwart the wizards and witches who try to use them, showing that the common man and woman are the true shapers of history.
Steven Erikson's The Malazan Book of the Fallen features a stunning array of factions and individuals across many levels of society, many of them jostling for power and some just trying to stay out of the way.
My own Book of the Black Earth series has only just begun, but already in the first book I've laid down the underlying conflict of rival powers. Religious cults vie with secular government. City-states compete for regional power. Individuals strive against the institutions of slavery and caste in a world where sorcery is the province of the ruling class.
But with hundreds of thousands (millions?) of fantasy stories out there in the world, hasn't everything that can be said about power already been said?
No, not at all. Every person has a unique perspective, and that perspective — that singular viewpoint — is what shapes our thoughts and opinions. Everyone who reads Ursula LeGuin's A Wizard of Earthsea gets something a little different out of it and every writer who tries their hand at a saga about the development of a power-wielder from apprentice to master approaches it a little (or a lot) differently.
Literature isn't about any single book or author or topic, but the entirety of human experience inscribed in language. The balance of power and how it affects each character is what draws me to fantasy lit. What about you?
---
Jon Sprunk is the author of the fantasy epic Blood and Iron as well as the Shadow Saga trilogy (Shadow's Son, Shadow's Lure, and Shadow's Master). For more on his life and writing, check out www.jonsprunk.com.