Harry Potter Returns in New Short Story by J.K. Rowling
Harry Potter Returns in New Short Story by J.K. Rowling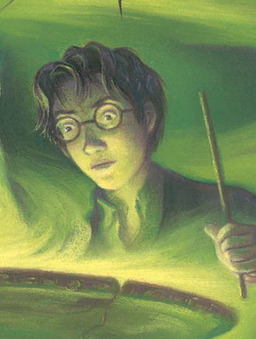 Earlier today, J.K. Rowling posted a brand new 1,500-word story featuring Harry Potter at her Pottermore website. Titled "Dumbledore's Army Reunites at Quidditch World Cup Final" and written as a July 8th Daily Prophet article by gossip correspondent Rita Skeeter, the story highlights the media circus surrounding the reunion of Potter and those who fought beside him to bring down Lord Voldemort, at the 2014 Quidditch World Cup Final in the Patagonian Desert in Argentina. Here's a snippet:
The Potter family and the rest of Dumbledore's Army have been given accommodation in the VIP section of the campsite, which is protected by heavy charms and patrolled by Security Warlocks. Their presence has ensured large crowds along the cordoned area, all hoping for a glimpse of their heroes. At 3pm today they got their wish when, to the accompaniment of loud screams, Potter took his young sons James and Albus to visit the players' compound, where he introduced them to Bulgarian Seeker Viktor Krum.

About to turn 34, there are a couple of threads of silver in the famous Auror's black hair… The famous lightning scar has company: Potter is sporting a nasty cut over his right cheekbone. Requests for information as to its provenance merely produced the usual response from the Ministry of Magic… So what are they hiding? Is the Chosen One embroiled in fresh mysteries that will one day explode upon us all, plunging us into a new age of terror and mayhem?
While there's little dialogue in the "news piece," the story is surprisingly satisfying, briefly featuring Ron Weasley, Hermione Granger, Neville Longbottom, Luna Lovegood, most of the Weasley clan, and a handful of others, including Harry's sixteen-year-old godson, the half-werewolf Teddy Lupin. In her catty tabloid style, Rita Skeeter skillfully highlights major events in the lives of our favorite characters since the end of Harry Potter and the Deathly Hallows sixteen years ago — there's even a nice twist at the end.
Read the complete story at Pottermore (free registration required).