Future Treasures: The Mammoth Book of Warriors and Wizardry, edited by Sean Wallace
Future Treasures: The Mammoth Book of Warriors and Wizardry, edited by Sean Wallace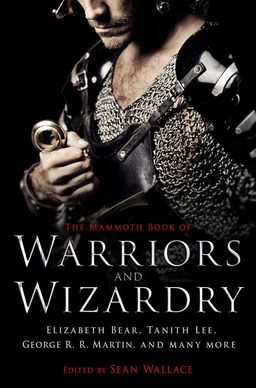 I hear reports from several quarters about an upcoming anthology of great interest to Black Gate readers: The Mammoth Book of Warriors and Wizardry, a generous collection of swords & sorcery edited by uber-editor Sean Wallace.
This is a reprint collection with contributions from Black Gate writers Matthew David Surridge (his popular S&S epic "The Word of Azrael" from Black Gate 14), James Enge ("The Singing Spear," one of my favorite Morlock stories), Chris Willrich, Jay Lake, and Richard Parks, as well as K.J Parker, Tanith Lee, Scott Lynch, Bradley P. Beaulieu, Aliette de Bodard, Mary Robinette Kowal, N.K. Jemisin, Saladin Ahmed, and many others.
Here's the book description:
This is a stellar collection of short fantasy fiction from authors who have made an impact over the last decade, along with some bestselling favourites. These stories of life-and-death struggles and magical force, used for good and evil, by Elizabeth Bear, Jay Lake, Tanith Lee, George R. R. Martin, Naomi Novik, K. J. Parker, Carrie Vaughn and many others provide thrills and entertainment aplenty.
This is the third Mammoth Book anthology edited by Sean, following The Mammoth Book of Steampunk (2012) and the upcoming Mammoth Book of Steampunk Adventures (Sept 18, 2014). The Mammoth Book line has produced some really great anthologies over the year — so many that I've almost lost count. But if you're looking for suggestions, I might start with The Mammoth Book of Vintage Science Fiction: Short Novels of the 1950s, The Mammoth Book of Golden Age Science Fiction, and the Mammoth Book of Short Fantasy Novels.
The Mammoth Book of Warriors and Wizardry contains 25 stories, most written in this century. Despite the mention in the description above, I see no contribution from George R. R. Martin in the Table of Contents — but since most of George's short fiction is in print and readily available in other outlets, that's not a big deal.
Here's the complete table of contents:
"Small Magic" by Jay Lake
"King Rainjoy's Tears" by Chris Willrich
"A Rich Full Week" by K.J. Parker
"The Woman in Scarlet" by Tanith Lee
"Flotsam" by Bradley P. Beaulieu
"A Warrior's Death" by Aliette de Bodard
"A Siege of Cranes" by Benjamin Rosenbaum
"Fox Bones. Many Uses." by Alex Dally MacFarlane
"Where Virtue Lives" by Saladin Ahmed
"The Effigy Engine: A Tale of the Red Hats" by Scott Lynch
"Strife Lingers in Memory" by Carrie Vaughn
"A Sweet Calling" by Tony Pi
"The Nacromancer" by N.K. Jemisin
"Golden Daughter, Stone Wife" by Benjanun Sriduangkaew
"Effigy Nights" by Yoon Ha Lee
"Wearaway and Flambeau" by Matthew Hughes
"At the Edge of Dying" by Mary Robinette Kowal
"Vici" by Naomi Novik
"Abjure the Realm" by Elizabeth Bear
"The Word of Azrael" by Matthew David Surridge
"Lady of the Ghost Willow" by Richard Parks
"The Singing Spear" by James Enge
"So Deep That the Bottom Could Not Be Seen" by Genevieve Valentine
"Warrior Dreams" by Cinda Williams Chima
"The Magician and the Maid and Other Stories" by Christie Yant
The Mammoth Book of Warriors and Wizardry will be published by Running Press on November 11, 2014. It is 512 pages, priced at $14.95 in trade paperback. No word on a digital edition. Thanks to SF Signal for the tip.