New Treasures: The Mammoth Book of Steampunk, edited by Sean Wallace
New Treasures: The Mammoth Book of Steampunk, edited by Sean Wallace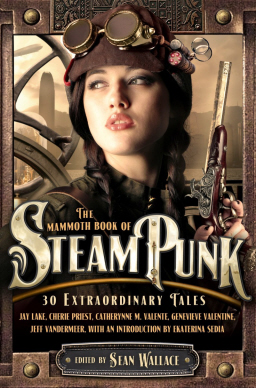 Back in 1987, I was reading novels like Tim Powers's On Stranger Tides, James Blaylock's Homunculus, and K.W. Jeter's Infernal Devices.
Although I didn't know it at the time, all three men were friends. What I did notice was that all three shared a common fascination with Victorian-era manners and plots, and their books likewise shared a common aesthetic, an alternate-history extrapolation and love of steam-powered gadgetry. I remember Jeter's famous letter, published in the April 1987 issue of Locus, in which he coined the term 'steampunk' to describe what he and his friends were doing, and make a modest prediction:
Personally, I think Victorian fantasies are going to be the next big thing, as long as we can come up with a fitting collective term for Powers, Blaylock and myself. Something based on the appropriate technology of the era; like 'steam-punks,' perhaps.
How right he was. Steampunk did become the next big thing, gradually displacing the "cyberpunks," who were widely considered The Next Big Thing in 1987. No one predicted steampunk would be just as much a clothing and cosplay phenomenon as a literary trend, but no one had heard of cosplay in 1987 either, so that's understandable.
If you want to get into steampunk fashion, you're on your own. But if you're looking for a great introduction to the ideas and writers behind the defining SF aesthetic of the 21st Century (so far), Sean Wallace's The Mammoth Book of Steampunk is a fine place to start. Reprinting fiction from Jeff VanderMeer, Aliette de Bodard, N.K. Jemisin, Eileen Gunn & Michael Swanwick, Margo Lanagan, Amal El-Mohtar, Barth Anderson, Jeffrey Ford, James Morrow, Mary Robinette Kowal, Jay Lake, Cherie Priest, Catherynne M. Valente, Genevieve Valentine, and many other, this fat anthology will make you an expert on the sub-genre in short order.
The Mammoth Book of Steampunk was published by Running Press in June, 2012. It is 498-pages in trade paperback, priced at $13.95, or $11.12 for the digital edition. Check it out.