Vintage Treasures: Eyes of Amber by John D. Vinge
Vintage Treasures: Eyes of Amber by John D. Vinge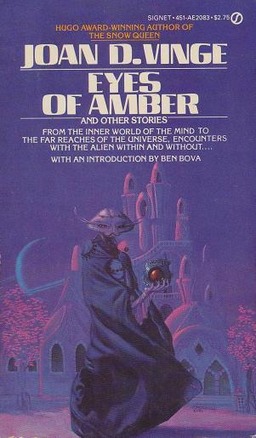 I'm still exploring the box of SF and fantasy paperbacks I inherited from my sister-in-law Mary Dechene after her death last month.
Mary enjoyed bestselling fantasy and she had a fabulous collection. But her library also had many surprises, including some from an age when it wasn't unusual for a midlist author to have a mass market collection. In 1979 Joan D. Vinge had only two other books to her name, The Outcasts of Heaven Belt (1978) and Fireship (1978), when Signet published her short story collection Eyes of Amber, featuring the Hugo Award-winning title story. Among Mary's collection was the 1983 Signet reprint, with a fabulous new cover by artist Tom Kidd (at right).
The Universe of the Imagination Awaits You in…

Eyes of Amber — The Hugo Award-winning story of one Earthman trying to play a symphony of civilization to a distant, barbaric world.

To Bell the Cat — What happens to humans facing a true alien encounter when they have already become alienated from each other?

View from a Height — What do you do with the rest of your life when you're alone on a one-way journey to meet the universe?

Media Man — In the precarious society of Heaven Belt, he sold dreams to a dying people. And he knew his career would be over the day he told them the truth…

The Crystal Ship — The Star Well: Was it two races' chance for the future or a bottomless pit in which all hope must die?

Tin Soldier — Can love really survive across the spaceways and down through time?
Joan D. Vinge won the Hugo Award in 1980 for her science fantasy novel The Snow Queen, and she followed it with three sequels: World's End (1984), The Summer Queen (1991), and  Tangled Up In Blue (2000). Her other books include Psion (1982),  Catspaw (1988),  Dreamfall (1996), and the collection Phoenix in the Ashes (1985). Her most recent book was the media tie-in novel 47 Ronin (2013).
Eyes of Amber was published in 1978 by Signet and reprinted with a new cover by Tom Kidd in 1983. It is 247 pages, priced at $2.75 in paperback. The introduction is by Ben Bova and Vinge provides brief afterwords for each of the stories. The book has been out of print since 1983; there is no digital edition. Copies on eBay run around $1 – $5.
See all of our recent Vintage Treasures here.