Vintage Treasures: Feather Stroke by Sydney J. Van Scyoc
Vintage Treasures: Feather Stroke by Sydney J. Van Scyoc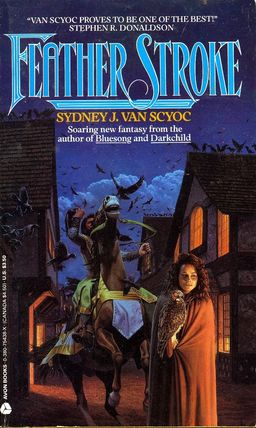 My sister-in-law Mary Dechene passed away unexpectedly two weeks ago. She was 52, never married, and lived alone in a small apartment in Madison, Wisconsin. She was also a Black Gate reader and I'll miss the letters she used to send me after she read each issue cover to cover.
Her funeral was Saturday. Afterwards came the sad duty of parceling out her belongings to various siblings, nieces, and nephews as the family packed up and cleaned out her apartment. Mary was a dedicated fantasy fan — really, it was all she read — and she left behind thousands of fantasy paperbacks dating from the late 80s and on, packed in dozens of boxes. I think many folks assumed I would want them, but I'm already pretty well stocked in fantasy paperbacks from that era and thought it made more sense for them to go to her sister Marty, so I gallantly waved away any claim to them.
At least until I casually peeked in the first box. I discovered that Mary was surprisingly widely read, and in addition to a virtually complete collection of Terry Brooks, David Eddings, Mercedes Lackey, Robin Hobb, and other bestselling fantasy, she had several surprises. In fact, she had dozens of books I never even knew existed. And trust me when I tell you, that doesn't happen to me very often.
In a matter of minutes, I was secluded in the garage, digging through box after box. While the rest of the family divided Mary's jewelry and appliances, I was stacking hundreds of paperbacks in neat rows. In addition to being a completest, Mary was also a very careful reader — the books were in great shape. It really was a treasure trove, far more fantasy novels than I'd seen virtually anywhere. And I've been in some of the best book stores on the planet.
In the end, I made it through less than half the boxes. I felt a little guilty about pillaging Mary's collection anyway, especially after her sister had already laid claim to it, but Marty didn't seem to mind. I didn't find anything really valuable, but I did fill a great many holes in my collection, and brought home one very nearly full box of Mary's delightful collection. I settled back with the first one tonight —  Sydney J. Van Scyoc's Feather Stroke, a standalone 1989 fantasy from Avon with a terrific Keith Parkinson cover.
Written on the first page, in her famously cramped script, are the words Mary Dechene. A reminder of where they came from. Thank you, Mary. We shared a passion for fantasy, and I'm glad fate brought us together for a short time. I'll treasure these books, and they will always remind me of you. Rest in peace.