Future Treasures: Traitor's Blade by Sebastien de Castell
Future Treasures: Traitor's Blade by Sebastien de Castell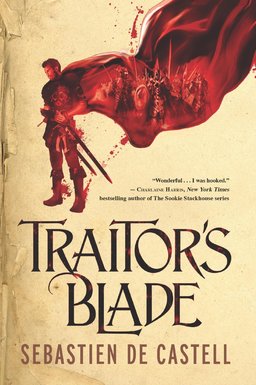 There's been a lot of pre-publication buzz about Canadian Sebastien de Castell's debut novel Traitor's Blade. Dave Duncan called it "A wild dance of fights, treachery, and jaw-dropping surprises," and Fantasy Book Critic said it was "The first 'new' fantasy of 2014 that met and even exceeded my expectations."
But it was Niall Alexander's review over at Tor.com that really piqued my curiosity. He called it "A bunch of fun from one cover to the other. Recommended especially to readers who've had it up to here with unhappy heroes." Sounds like just what I need. Here's the book description.
Falcio is the first Cantor of the Greatcoats, the elite corps of 144 men and women whose mission is to travel the land and uphold the King's Law. Highly trained in the sword-fighting, diplomatic, and judicial arts, the Greatcoats are heroes. Or at least they were heroes, until the powerful Dukes, feudal noblemen with ambitions of their own, overthrew the king and placed his head on a pike as a warning to his supporters.

In the power vacuum left by the death of the king, Tristia is on the verge of collapse and the barbarians are sniffing at the borders. As the power struggle among the Ducal powers brings chaos to the land, the Greatcoats are scattered far and wide; reviled as traitors to the king they failed to protect, their reputation and legendary leather coats are both in tatters.

All the Greatcoats have left is the secret set of instructions given to each one by King Paelis before his death. If Falcio and his best friends Brasti and Kest have any hope of fulfilling the king's final mission, the Greatcoats must reunite — or else they must stand aside and watch as the world they were sworn to protect burns.
Traitor's Blade will be published July 1, 2014 by Jo Fletcher Books, a division of Quercus. It is 372 pages, priced at $26.99 in hardcover and $13.99 for the digital edition.