OMG! Immortal Immodesty (Deities and Demigods, Part 3)
OMG! Immortal Immodesty (Deities and Demigods, Part 3)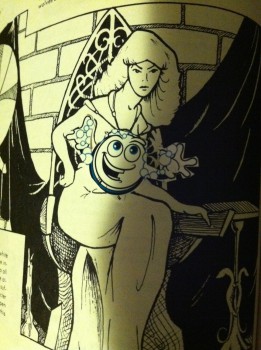 In my ongoing exploration of TSR's first edition Deities and Demigods (1980), I must now confront the mammary in the room.
Did you ever notice there's a fair amount of nudity in those first generation ADD books? I'm just, um, wondering if you guys did. I mean, I didn't. I just noticed. Someone pointed it out to me — yeah! That's the ticket! When I was twelve years old, I was much too pious to have had any impure thoughts toward Loviatar, aka Goddess of Hurt aka "Maiden of Pain."
Okay, I may have noticed in passing that there was less modesty in those '70s and early '80s realms of fantasy, whereas with second edition on there is nary a nipple to be noticed. The cleaning up happened before the Wizards of the Coast buy-out and seems to track pretty closely with the culture in general (note many PG movies from the same era — say, the original Clash of the Titans — that couldn't be shown on basic cable these days without heavy editing to assure that preteens aren't sullied by viewing bare human breasts and buttocks, which they have never seen because who ever heard of the Internet?).
The interior illustrations are gorgeous. This is old-school RPG, so it's all black-and-white line art by the likes of Erol Otus, David S. LaForce, Jim Roslof, and David C. Sutherland III.
To undress, er, address the tempestuous topic of topless deities in the temples, I must confess that, as an adolescent, I did appreciate the fact that goddesses by and large disdained mortal-kind's prudery when it came to attire. It's stunning, really, how many goddesses not only do not cover up their breastesses, but wear outfits that positively accentuate them.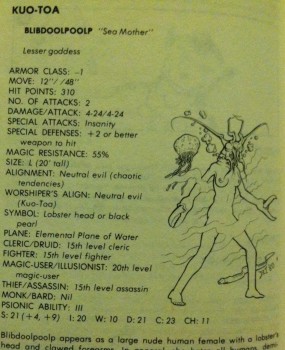 There may be a variety of reasons for any given goddess to do this. Maybe it's a ploy to distract from the fact that she has the head of a jackal or a snake (or a lobster, as in the case of Blibdoolpoolp, goddess of the Kuo-Toa). (There's a story out of London about a female pickpocket who flashes her breasts at her victims after snatching their iPod or iPhone: the victims can never provide to police a description of her face.) Maybe it's to symbolize her status as a giver and sustainer of life and sustenance to her followers. Maybe it's just because David S. LaForce was really good at drawing breasts.
Anyway, Hasbro, the corporate deity of Wizards of the Coast, would never let such nudity fly in one of their products now. Which is ironic, when you consider that we live in the age of the Internet. And aren't we supposed to be getting over these hang-ups about what we (and some immortal beings) look like under our clothes? Then again, it was only twelve years ago that U.S. Attorney General John Ashcroft spent $8,000 (taxpayer money!) for drapes to cover the bare-breasted statue of Lady Justice in the U.S. Department of Justice headquarters.
Bram Dijkstra, aside from having more consonants in a row than any name I've seen since Mister Mxyzptlk, is Professor Emeritus of Comparative Literature and Cultural History at the University of California, San Diego. In his book Naked: The Nude in America (2010), he makes this observation about our society and its attitudes toward nudity:
The mind-boggling contradictions of American culture are nowhere as obvious as in its constantly shifting attitudes toward the naked human body. During the late 1960s and early '70s, nudity was a relatively common sight at rock concerts and in the theater. But as recently as 2002 John Ashcroft still sought to bring modesty to a statue representing the Spirit of Justice. On display since the early 1930s in the great hall of the department named after her in Washington, D.C., the statue offended the attorney general because, in raising her arms, she had been so incautious as to let one rounded breast float free. Ashcroft retaliated by having the entire statue (and its loincloth-protected mate, the masculine Majesty of Law) hidden from sight by blue drapes — strictly for 'aesthetic reasons,' a Justice Department spokesperson claimed.
The drapes were removed in 2005 by Ashcroft's successor, but this puritanical strain obviously runs deep — see overblown reaction to any infamous wardrobe malfunction that can be cited (Do you remember where you were when Janet Jackson's nipple was exposed for half-a-second on network television? Right up there with the Challenger explosion in terms of the imprint on cultural memory, isn't it? And that's pretty ridiculous.)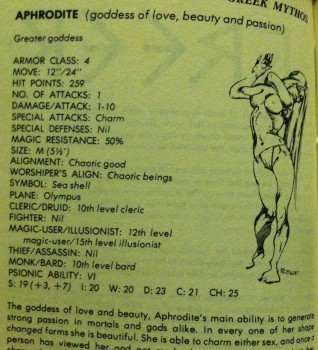 Professor Dijkstra goes on to note several ironies concerning the U.S. being "one of the largest exporters of images of naked bodies, which, though rarely seen on the home front, grace the covers of newspapers and magazines the world over. . . .
"And, even as their sons and daughters send nude photographs of themselves to friends over the Internet, parents everywhere continue to insist that nudity should be banned from museum walls in order to protect their innocent brood from harm. Convinced that depictions of the naked human body are bound to undermine culture and destroy the putative control of civilization over the 'anarchy' of erotic temptation, these parents openly celebrate family values while many of them are secretly engaging in affairs or frequenting prostitutes, only to tearfully confess their 'sexual addiction' or to blame the devil (usually a woman) when caught."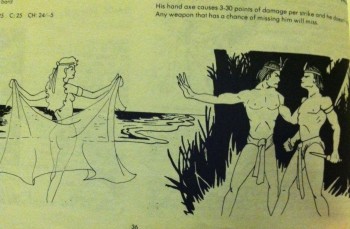 In terms of the "long history of such virtuous hypocrisy in American culture" that Dikjstra examines, it may be hard to fathom how anyone could be really offended by the illustrations in DDG and The Monster Manual — they're pretty innocuous. But during the witch-hunt launched against D&D in the '80s, it certainly couldn't have helped when one's concerned Christian mother opened DDG and saw — on top of the magic and the summoning of spirits — a lobster-headed goddess flashing her assets.
Truthfully, though, I've seen illustrations in children's books from the Victorian era that are as explicit, in which mermaids and fairies in their innocence do not fret about cockle-shells or strategically placed locks of hair, unlike their later Disney versions.
For wisdom in navigating these touchy cultural waters, I think we'd best bow and seek guidance from Aphrodite or Isis — and hey, her feet are down there, buddy! Where your eyes should be when you're supplicating a divine being!