George R.R. Martin is Spoiling HBO's Game of Thrones
George R.R. Martin is Spoiling HBO's Game of Thrones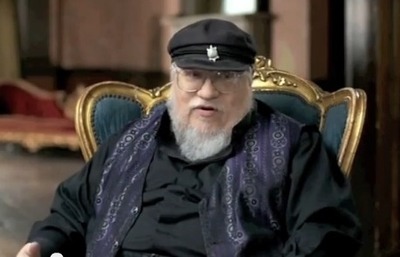 This article has been making the rounds on the Internet since it was posted yesterday at UK satire site Underground Magazine — and it's too good not to share. Funny as it is, the numerous outraged comments it's received, from shall-we-say less informed fans of the HBO show, are equally hilarious (some of the comments were posted on Weird Tales' Facebook page).
The entertainment industry was today warning fans of the popular HBO series Game Of Thrones to avoid 'at all costs' a series of books by a rogue enthusiast named George R.R. Martin, who has written five whole volumes consisting solely of spoilers for the popular television show.

"This man is dangerous and wants to ruin everyone's enjoyment of a much-loved fantasy drama." said executive producer D. B. Weiss. "It's a sad symptom of today's 'binge' culture that people can't just wait and enjoy things as they are released. They want everything at once…"

Some of the books in question, which add up to a total of some 4,200 pages, contain so many spoilers that they have had to be split into volumes. HBO executives are investigating how Martin is able to work on new editions set far in advance of the current TV series.

TV fan Simon Rix told us he "picked up a copy of one of the books thinking it was a companion piece or a spin-off from the TV show, but after reading all of them in one week, I had the whole show ruined for me in intricate detail. There were characters I'd never heard of, plot lines that went way off course, and not nearly as much nudity."
Read the complete article here.