Convention Report: Ad Astra Science Fiction Convention in Toronto
Convention Report: Ad Astra Science Fiction Convention in Toronto
I hit a few science fiction and fantasy conventions a year, for professional reasons, but more importantly for the fun of meeting new people and catching up with friends I haven't seen in months. This weekend, I'm in Toronto, Canada, at Ad Astra, one of the two major literary fan-run conventions held every year (the other being SFContario).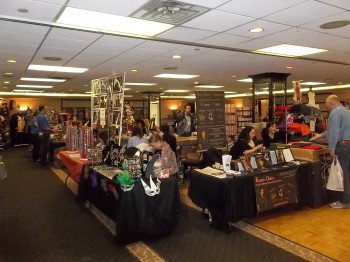 Ad Astra is a nice-sized convention with a number of programming tracks book, TV, and movie fans, writers, costumers, and shoppers. They have a great line-up of guests. David Mark Weber, creator of the Honor Harrington series and other military scifi works, is here, as is Steven Erikson, epic fantasy author of The Malazan Book of the Fallen.
Anne Lesley Groell is representing Random House (she's an Executive Editor) and Ad Astra also has Patricia Briggs, author of the Mercy Thompson urban fantasy series. Some returning guests of previous years are science fiction authors Julie Czerneda and Robert J. Sawyer, as well as Ed Greenwood, famed D&D creator of the Forgotten Realms fantasy world.
Some of the things I'm hoping to see include "Podcasting After Dark," a pod-cast interview to be run by noted critic and reviewer Adam Shaftoe, "Carbine-tipped Pens," a panel about an upcoming all-original scifi anthology edited by Ben Bova and Eric Choi. I might miss the "Steampunk Costuming for Newcomers" to catch back-to-back readings by Ottawa-area writers Matt Moore and Marie Bilodeau.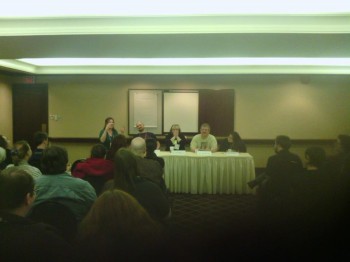 [Click on any of the images in this post for larger versions.]
On a note about Marie, it turns out she reads Black Gate and was riffing off my recent posts about fantasy as a genre not being amenable to discussing political topics.
She tried to catalyze a mob to go debate me, but I guess there's a shortage of pitchforks in Toronto.  Here's a pic of her stirring up the audience.
I'll have a couple of panels I'll be speaking on myself: "Mining in Space" and "Good Research Makes for Better World-Building," both topics I have strong, although perhaps not controversial, opinions on. Although, perhaps I should just be contrary to be more entertaining?
We'll see. I love both topics, but I could lead with a line like "Research is stupid and makes your work derivative" to see the reaction I get….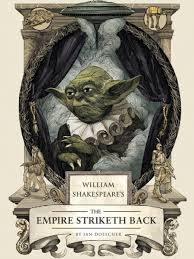 Saturday evening, I expect a lot of parties, which pretty much anyone at the convention can attend. Bundoran Press has a party, as do a number of others, and at 10:30pm I've volunteered to join a late night reading of fanfic. My co-partner in this exercise in silliness is Michael Matheson, a Toronto writer on the editorial staff at Apex.
He'll be reading fan fiction he wrote about Pacific Rim. I will be intercalating my own reading of the book the Empire Striketh Back between his scenes and then it will go to open mic. I haven't found someone to read Leia yet. There's still tomorrow.
There's lots more I want to hit and lots more people I want to talk to. I ran into Linda Poitevin, author of the supernatural romantic fiction series The Grigori Legacy.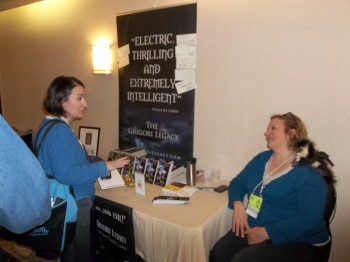 Here's a pic of her talking to a fan.
I find that my con-going experience has changed over the years. Ad Astra 2008 was actually my first con, then World Fantasy 2008 in Calgary, and WorldCon 2009 in Montreal (it was like a grand conjunction of Canadian cons that happens about as often as a Voyager mission can hit all the gas giants).
In my first years, clutching my few writing credits, I went to as many panels as I could while still eating lunch and supper, and participating on as many as they would let me be on. I had so much to learn and catch up on (I only discovered that conventions existed in 2007).
My more experienced writer friends told me to take it easy and to have more fun. I'm maybe too goal-oriented in a lot of parts of my life and slow to take good advice, but in my seventh year at Ad Astra, the panels are great but not as important as the readings and just touching base with people I only see once in a while.
So, gotta run!
---
Derek Kunsken is a writer of science fiction, fantasy and horror in Ottawa. You can find out more about him at www.derekkunsken.com or @derekkunsken.