Sean P. Fodera Apologizes to Mary Robinette Kowal
Sean P. Fodera Apologizes to Mary Robinette Kowal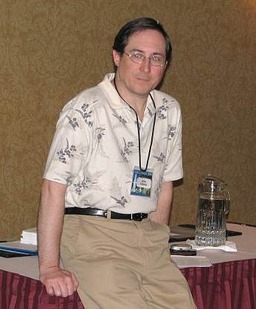 Macmillan Associate Director of Contracts Sean P. Fodera, who attacked Mary Robinette Kowal in a series of public posts at SFF.Net, and recently threatened to sue individuals linking to a critical Daily Dot article by Aja Romano, has consulted with his attorney and been absent from the Internet for several days. Now, as noted by the folks at Reddit, Fodera has posted "a full and lengthy apology, beautifully written by his lawyer."
First, I'd like to be clear that any statements I have made (or make hereafter) on this matter have been (or will be) my own opinions, and do not represent the opinions of my employer. I should have included a disclaimer to this effect in my regular posts on sff.net…

I fully accept and acknowledge that my statements about Mary Robinette Kowal were extreme and unnecessary… I want to apologize to Mary for doing that. Mary, if you are reading this, I really am very sorry for my inconsiderate and insensitive response to the question, and my later posts…

With regard to the articles and other posts that my comments inspired, I have spoken at length to legal counsel, who feel that I may have legitimate cause to bring suit against The Daily Dot and/or Aja Romano for defamation. However, this would be a costly and very lengthy endeavor… My attorney has also updated me on the legal status of linking to the Daily Dot article. I had not kept up on the recent rulings in this area, and was therefore referencing outdated information in stating that I believed linkers are also liable in defamation cases. This is why it was important to consult counsel, so that I could have reputable and up-to-date information about my options in this situation.
Mary, always a class act, responded immediately on SFF.Net.
Thank you. That is a deeply handsome apology. I accept without reservation.
You can read the complete text of Fodera's apology here and Mary's response here.