New Treasures: Reflected by Rhiannon Held
New Treasures: Reflected by Rhiannon Held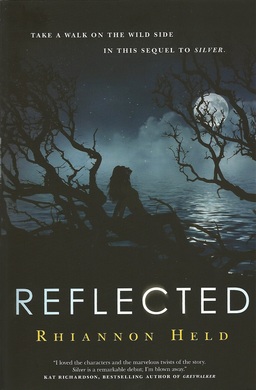 I'm not sure why, but everyone on the Internet seems to be showing the wrong cover for Reflected. The artwork — a beautifully spooky silhouette of a woman reclining by a mist-covered, moonlit lake — is correct, but the text is wrong, and the title is at the top, instead of the bottom. Amazon's cover is wrong; so is Barnes & Noble. Even Goodreads is showing the pre-release version. The correct cover, scanned from the hot-of-the-presses copy in my hot little hands, is at right.
Well, at least they're all talking about the book. Reflected is Rhiannon Held's third novel, the second sequel to her very popular debut Silver, an urban fantasy which introduced the Roanoke were-pack and the deadly monsters which threaten them.
The Were have lived among humans for centuries, secretly, carefully. They came to America with the earliest European colonists, seeking a land where their packs could run free. Andrew Dare is a descendant of those colonists, and he and his mate, Silver, have become alphas of the Roanoke pack, the largest in North America.

But they have enemies, both within their territory and beyond the sea. Andrew is drawn away to deal with the problem of a half-human child in Alaska, leaving Silver to handle the pack and his rebellious daughter just as a troublemaker from Spain arrives on the scene.
Reflected is the third in the series, following Silver (2012) and Tarnished (2013). It was published by Tor Books on February 18, 2014. It is 336 pages, priced at $15.99 in trade paperback and $9.99 for the digital edition. Visit Rhiannon Held's website here.
See all of our recent New Treasures here.