New Treasures: Wildside Double #6 — Alien StarSwarm by Robert Sheckley / Human's Burden by Damien Broderick & Rory Barnes
New Treasures: Wildside Double #6 — Alien StarSwarm by Robert Sheckley / Human's Burden by Damien Broderick & Rory Barnes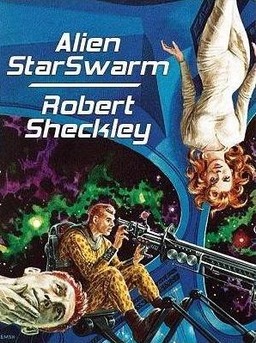 With all the recent attention we've been giving to the classic Ace Doubles by Andre Norton, Harlan Ellison, Murray Leinster, and others, I would be remiss to not point out that Wildside Press has recently revived the tradition of the Ace Double with a handsome series of back-to-back short novels (novellas, really). It looks like they're pairing hard-to-find reprints with original fiction, which I think is a terrific idea.
They've assembled a crackerjack list of writers, too — including Robert Sheckley, Damien Broderick & Rory Barnes, Edmond Hamilton, Harl Vincent, Lawrence Watt-Evans, Brian Stableford, Howard V. Hendrix, Philip Jose Farmer, Randall Garrett, Robert Silverberg, Pamela Sargent, and many others. So far, they've produced over 30, which is pretty darned impressive.
I bought an assortment of titles to try them out, and the one that commanded my attention immediately was #6 — Robert Sheckley's Alien StarSwarm, paired with Human's Burden, by Damien Broderick & Rory Barnes. Likely that's due to the gorgeous covers by Emsh (Ed Emshwiller), one of the greatest (if not the greatest) cover artists our genre has ever seen. The Sheckley side features a nicely re-colored version of the cover of the February 1957 issue of the short-lived magazine Infinity Science Fiction. Here's the book description for Alien StarSwarm.
Salvatore commands the battleship Endymion. He's seen his share of battles and fought them bravely, too. So he doesn't hesitate when beautiful Princess Hatari pleads for his help. She wants to regain her throne, but it may be more than Salvatore can accomplish, for the deadly race known as the Balderdash has taken over the planet Melchior — and now, even his own men have turned against him. Bred to fight, he accepts the challenge!
Alien StarSwarm was originally published as a 96-page chapbook from a company called DimeNovels way back in 1990. It certainly qualifies as hard-to-find… I've never even seem a copy (here's a snap of the cover, just to prove it exists.) It has never before been reprinted — so if you're a Sheckley fan, this may be the only way you're going to find it.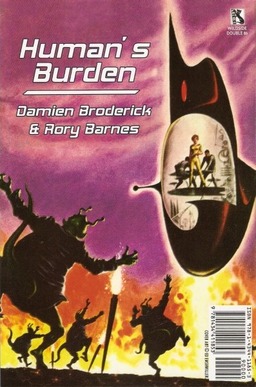 Robert Sheckley was the author of The Status Civilization (1960), The 10th Victim (novel) (1966), Mindswap (1965), Dimension of Miracles (1968), Victim Prime (1987), and many other fine novels. He's remembered today mostly for his unpredictable short fiction, gathered in ten highly regarded collections beginning with Untouched by Human Hands (1954), Citizen in Space (1955), and Pilgrimage to Earth (1957).
Alien StarSwarm is paired with the original short novel Human's Burden by Damien Broderick and Rory Barnes (also with a restored Emsh cover, also from Infinity magazine). Here's the description.
Poor Jack Wong is a clueless cadet at the Unified Space Academy when his pod is stranded on a planet of disgusting aliens. All he wants to do, other than escape, is to fulfill his proud duty to advance Earth Culture's Primary Heuristic: Wherever possible, find the weak spot in an alien civilization and interfere as much as possible for the benefit of humanity. It's the Human's Burden! But everything comes unstuck, made worse by his irritating Machiavellian AI. And that's just the start of Jack's troubles in space and time….
Damien Broderick is the author of Sorcerer's World (1970), The Dreaming Dragons (1980), and Transcension (2007), among others. He's written six novels with UK author Rory Barnes, including Valencies (1983), Zones (1997), and The Hunger of Time (2003).
These Wildside Doubles are handsome and sturdy print-on-demand editions and I'll definitely be acquiring some more.
Alien StarSwarm/Human's Burden (Wildside Double #6) was published by Borgo Press on October 6, 2010. It is 276 pages, priced at $15.99 in trade paperback and $2.99 for the digital edition. Alien StarSwarm (119 pages) was originally published in 1990; Human's Burden (157 pages) appears here for the first time.
See all of our recent New Treasures here.