Sherlock Holmes Tiptoes into the Public Domain
Sherlock Holmes Tiptoes into the Public Domain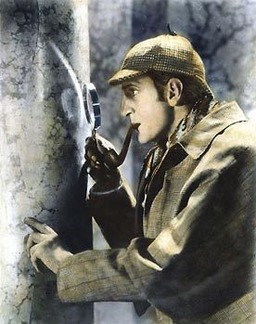 An American judge has ruled that Sherlock Holmes is in the Public Domain.
Say what? If you're like me, you've had some trouble wrapping your head around the fact that Arthur Conan Doyle's famous detective wasn't already in the public domain. His first appearance, in the short novel A Study in Scarlet, was in 1887, and he appeared in a total of four novels and 56 short stories between then and 1927. To my mind that's the pre-pulp era, roughly contemporary with the Old Testament and the Dead Sea Scrolls.
Let's review. If most of Robert E. Howard Conan tales, published between 1932 -1936, are in the public domain — and in fact, virtually all literary works published before January 1, 1923 are no longer covered by United States copyright law — what's the deal with Sherlock Holmes?
Well. Near as I understand it, the Conan Doyle Estate bases their claim on the fact that the last Holmes story was published in 1927, and the characters of Sherlock Holmes, Dr. Watson, Irene Adler, etc. were not truly completed until then. The Estate has challenged any production that tried to make use of the characters — and indeed, popular TV series like the BBC's Sherlock, and CBS's Elementary, have paid a license.
In February of this year Leslie S. Klinger, editor of the New Annotated Sherlock Holmes and the upcoming original collection In the Company of Sherlock Holmes, filed a declaratory judgment suit against the Doyle estate, asking that the court rule that Doyle's famous characters are in the public domain, and no longer protected by U.S. copyright (the characters are already in the public domain in Britain.)
Klinger had already paid a $5,000 licensing fee for the first book, and clearly wasn't too thrilled about the prospect of having to pony up a second time.
Last week Chief Judge Rubén Castillo issued a declarative judgment that Sherlock Holmes, Watson, and other characters and elements included in the 50 short stories and novels published before 1923 are no longer covered by United States copyright law, and can be freely used by other creators without paying a license fee.
There are some gotchas. Any unique story elements introduced after 1923 — which, as The New York Times points out, includes such tantalizing tidbits as "the fact that Watson played rugby for Blackheath, or had a second wife" — remain under copyright, and can't be used without paying a license fee. But in general, the core elements of the Sherlock Holmes canon are now free to use.
What are you waiting for, Holmes fanfic writers? Time to sharpen your pens — and see if you can get an agent.
Read more details at the New York Times online edition.