Warner Bros. Confirms Gilligan's Island Re-make
Warner Bros. Confirms Gilligan's Island Re-make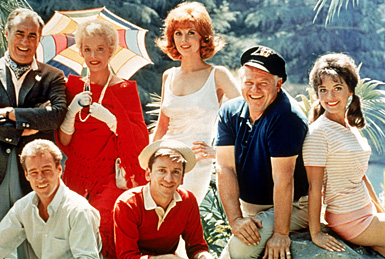 Multiple sources are now reporting that Warner Bros. has green-lit a feature film re-make of the famous CBS sitcom Gilligan's Island, which ran for three seasons from 1964 to 1967.
The original show was perhaps the greatest TV staple of my childhood. On any given day of the week, at least one local station on the television dial was broadcasting Gilligan's Island. Along with The Brady Bunch, it was the one show every one of my siblings watched.
Gilligan's Island followed the adventures of seven castaways marooned on an island paradise after a tropical storm blows their famous "three hour cruise" out of Honolulu far off course. While hardly a fantasy the way I Dream of Jeannie and Bewitched were, Gilligan's Island was not afraid to embrace the fantastic, with episodes that included voodoo spells, futuristic jet-packs, a stone that grants three wishes, a magician's trunk, and much more. The pilot episode featured a theme song by John Williams, and the show had several notable guest stars — including Mel Blanc, voicing everything from a frog to Gilligan's pet duck, and a very young Kurt Russell, playing a Jungle Boy.
This isn't the first re-make. The show's creator, Sherwood Schwartz, re-cast Gilligan's Island as the short-lived western comedy Dusty's Trail in 1973, starring Bob Denver and Forrest Tucker as part of a group who become separated from their wagon train, with a cast of nearly identical characters. The 1982 Saturday morning cartoon Gilligan's Planet included the voices of the entire original cast except for Ginger (Tina Louise), and followed the adventures of the castaways after they escape from the island by building a spaceship, promptly getting shipwrecked on a distant planet.
The new movie is described as a star vehicle for Josh Gad, star of the Broadway musical The Book of Mormon (and the voice of Olaf the Snowman in Disney's Frozen). Gad will also co-write the script. No news on a release date, or whether Gad will play Gilligan.