Goth Chick News: Ending "The Season" at Days of the Dead
Goth Chick News: Ending "The Season" at Days of the Dead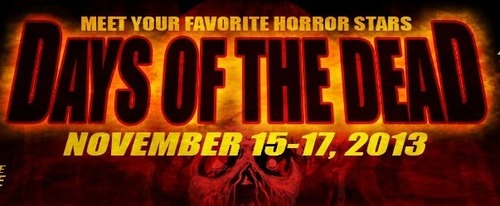 It is with a heavy sigh that the Goth Chick News team bids farewell to another "season" of Halloween fun but not before attending one last hurrah.
Days of the Dead is a four-city, tour de force of all things horror that rolled through Chicago last weekend.  In addition to a copious list of movie celebrities, this year's event boasted the largest number of industry vendors ever to attend the Midwest show; including special effects artists, set dressers, authors and indy film makers.
Bigger events come through Chicago, but Days of the Dead has the monopoly on panache.
Let's wade in shall we?
Instant Monsters provides highest quality yet affordable makeup prosthetics and special effects which are nothing short of amazing.
Unlike pull-over rubber masks, Instant Monster "prosthetics" stretch and shift with your face giving you a full range of lifelike movement instead of one static expression (ala Joan Rivers). Plus they are dead simple to apply (get it?) and can be purchased fully "made-up" to match your skin tone, leaving you little to do but be your horrible best.
Some of the options like "eyesore" are downright disturbing which is why we're giving Instant Monsters the coveted Five Bat Award for Best of the Show.
Well done gentlemen.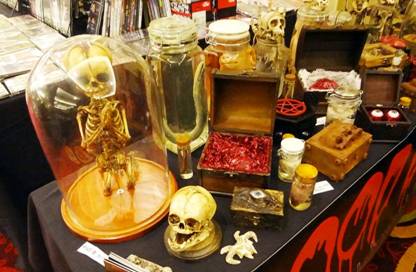 Prices start at $30 and all prosthetic options are available for sale on their web site.
Blood Brood FX – we love these guys not least because they are the source of our favorite coffee-table prop known as "conjoined twin skull under glass."
Allow me to elaborate.
Blood Brood FX is a full haunt-industry service located right here in our home town of Chicago, providing everything from custom props, to set design, to full haunted attraction design and set up. Their creations range from "family friendly" to full on gross-out and everything in-between, including my beloved "conjoined twin skull under glass."
Upon perusing a few of the "limited edition" offerings for sale on his web site, you may be tempted to think there is something slightly wrong with owner Mike Krohn; which is precisely why you'll want to contact him to help you scare the snot out of the neighbor kids next Halloween.
As a huge fan of Erik Larson's book The Devil in the White City, I was particularly excited to meet award-winning indy filmmaker and author John Borowski, the creative mind behind the indy film, H. H. Holmes: America's First Serial Killer.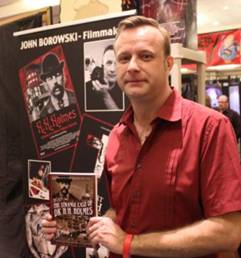 If you aren't aware, Holmes was the Jack the Ripper-like murderer who stalked visitors to Chicago's 1893 World's Fair and constitutes the "devil" portion of Larson's book.  However, Borowski digs deeper, both literally and figuratively.
Borowski has graciously agreed to do a feature interview with us for an upcoming post but I did watch his chilling creation available on Netflix and Amazon and I encourage you to do the same – but only with the lights on.
Remember kids, this is the real thing…
Sticking with the indy films we also met Danny Delpurgatorio which has to be just about the best name for a horror movie director as I have ever heard.
Delpurgatorio's new short film, Other is horrific tale that explores a man's will to live. The film is about a doctor who goes outside of modern medicine to try to cure himself of a deadly diagnosis. With only weeks left to live, he finds himself pushing the limits of science to save himself, and along the way, things take an unexpected turn.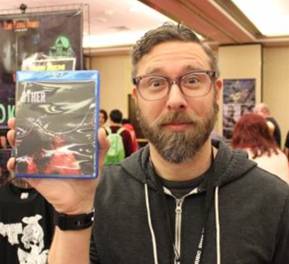 We will be learning more about Delpuratorio's work in an exclusive interview so stay tuned.
But amidst the eyeball earrings, actual dead things in mason jars and Night of the Living Dead tee shirts, what would Days of the Dead be without celebrity encounters?  Thankfully we won't have to find out since this year was as interesting as ever.
First up was the reunion of two-thirds of the cast of the 1999 ground-breaker, The Blair Witch Project: Heather Donahue and Mike Williams (Josh Leonard bailed at the last minute due to scheduling conflicts).
TBWP was the first major box office hit to use the "found footage" and "handicam" approach to filmmaking and the movie to which follow-ons like the Paranormal Activity franchise and The Forth Kind owe at least part of their parentage.  Made for $60K it grossed nearly $250M worldwide and should have catapulted its three previously unknown stars into permanent Hollywood careers.
However, after spending about 10 years in the business, both Donahue and Williams bailed on LA to pursue other passions: Donahue as an author and entrepreneur, and Williams as a high school guidance counselor.
Williams is also the creative force behind a successful TBWP spoof entitled Four Corners of Fear.  After years of ribbing from friends and students about his participation in TBWP, Williams decided it was time he went ahead and made a little fun of himself.
Check out the trailer and then stay tuned for an in depth discussion with Williams about this project and all things TBWP.
Last but not least was what will be one of my very favorite celebrity discussions of all time.
William Sanderson was at the Days of the Dead as part of a Blade Runner reunion along with Sean Young, Joanna Cassidy and Joe Turkel.  However anyone familiar with Sanderson knows this may be the least on his resume of accomplishments.
Sanderson's career spans 37 years and includes both television and film, but he may ultimately be best known for his eight years as Larry on the Bob Newhart Show or more recently to us "Truebies" as Sheriff Bud Dearborne in HBO's True Blood.  As Newhart was based in Chicago, Sanderson and his wife Sharon love their Chicago fans and have graciously agreed to speak with us further about Sanderson's remarkable and memorable career of iconic characters.
Shaking Sanderson's hand left me just a little speechless.
Oh, and before I forget to mention it: in a gesture of complete dedication to his craft, Black Gate photog Chris Z. attended Days of the Dead sporting the flagship product of one of our long-time favorite companies – Utilikilt.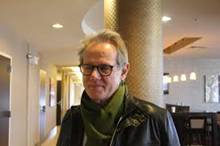 Yes there he was on this windy, 40-degree Chicago morning, laden with his rather impressive array of camera equipment, under which was the army green Utilikilt topped off with the Goth Chick News polo shirt.
Really, there are no words…
Actually, there are plenty of words – more than I could write and still call this a "blog' to be honest.
But amidst the attendees of Days of the Dead, Chris Z barely drew any notice at all with the exception of Heather Donahue from Blair Witch Project.  She eyed him up and down before declaring, "love the kilt."
It will be a life-long regret that Chris Z was in unyielding possession of the camera.
Have a comment (and there are plenty)?  Post it here or drop a line to Sue@blackgate.com.