Galaxy Science Fiction, June 1951: A Retro-Review
Galaxy Science Fiction, June 1951: A Retro-Review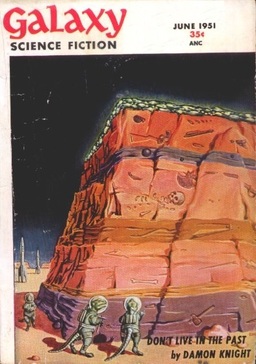 The June, 1951 edition of Galaxy Science Fiction featured several longer works: two novelets and the second part of a serial novel. That only left room for one short story.
In his editorial remarks, H. L. Gold writes of his discovery of science fiction and how his love for it helped him realize what he wanted for a career.
Unfortunately, the dream of editing as good a magazine as possible does not include production difficulties. Because buying paper these days is like being mugged on a dark street, GALAXY has been late much too often… Other headaches are distribution, newsstand display, rocketing costs, ruckuses over ads, sweating good stories into better stories, and improving art, which has been the biggest single gripe of readers.
Regardless of the hassles, Gold found a way to keep the magazine going, and the June issue is another strong showing.
"Hunt the Hunter" by Kris Neville — Ri and Mia act as scouts for humanity's leader, Extrone, helping him to successfully hunt a farn beast. Extrone is an intimidating figure who will risk confrontations with hostile aliens for the chance at killing a farn beast, something so rare in the systems humanity controls. Ri and Mia try to hide their traitorous thoughts as they lead Extrone toward the beasts, hoping to complete their mission quickly before Extrone's impatience leads to wrath.
I loved Extrone's character in this story. By far, it overshadows everyone else, but it works. I could picture Jeff Bridges playing the role, if this was a movie, barking out commands and delivering the slow, menacing dialogue.
I read a little about Neville, and it seems he was one who quickly vaulted into several of the big magazines. But he apparently felt that his work extended beyond the accepted boundaries of science fiction at the time. So he withdrew from science fiction and instead wrote texts in the field of epoxy resins. Yes, I'm serious.
"Angel's Egg" by Edgar Pangborn — David Bannerman's journals reveal an interesting account of the recluse's final days. And it all begins when he discovers the most unusual egg he's ever seen.
There is a lot of emotion wrapped in this tale. The ways the story wraps journal entries with letters and librarian notes is well done. Pangborn, from what I've read, enjoyed writing speculative fiction with an emphasis on human emotion. And that has had a lasting impact on the field.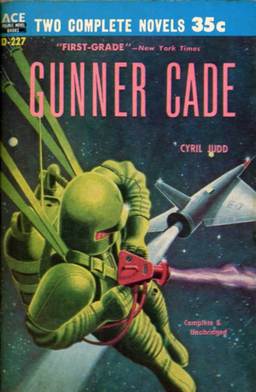 "Don't Live in the Past" by Damon Knight — An accident in temporal shipments releases dangerous organisms in Earth's past, sometime between the mid-Twentieth century and the late Twenty-First. To prevent their present from being altered, the governing authorities send Mazurin to observe and report. But while observing, Mazurin strands himself in the past. He faces the awful task of trying to mitigate changes to the future he knows and loves, yet he knows his actions can have subtle effects of their own.
The plot runs along pretty well and I liked Mazurin's character. There's a slight twist at the end (this is Damon Knight, after all), but there's some foreshadowing that dulls the impact. Not a bad story, though.
"Mars Child" Part 2 by Cyril Judd (Part 1 appeared in the May issue) — Tony, the colony's doctor, heads to Marsport to welcome the latest arrivals. Besides the new colonists, a famous journalist named Douglas Graham decides to join their small community for a short period. Tony hopes the journalist can help expose a plot against the colony — that Commissioner Bell and others are framing the colony for stolen marcaine. The reasons behind the setup are coming together — an increasing value of marcaine combined with interest in using the colony's labs as a second factory.
Beyond the continued search for stolen marcaine (which may not even exist), Tony tries to help the parents of a newborn who struggles to eat. The child seems healthy, but he can't understand the problem. Determined not to let another day pass without answers, Tony takes the child back to the hospital alone. And there he discovers the child's remarkable trait — that it can't breathe with an oxygen mask; instead, the baby breathes the Martian air.
The novel adds a lot of depth around the life on Mars and the pacing felt good. Graham has become one of the most interesting characters to me; Tony just seems too dour. This part of the novel made me think that perhaps I was wrong on some of my guesses about the marcaine theft, so I'm hoping I'll be surprised by the ending.
Cyril Judd is the pseudonym of Cyril M. Kornbluth and Judith Merril. They only cowrote this and Gunner Cade (which was serialized in Astounding Science Fiction in 1952).
---
Matthew Wuertz's last retro review for us was the May issue of Galaxy Science Fiction.