Galaxy Science Fiction, August 1951: A Retro-Review
Galaxy Science Fiction, August 1951: A Retro-Review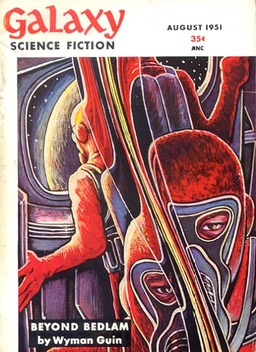 Sometimes when I look at the table of contents for Galaxy, I can almost hear Horace Gold chuckling. In the August, 1951 issue, for example, there are stories from both Lester del Rey and Ray Bradbury. But every issue is full of talented authors, though some became more famous with the passage of time. I think it would be a struggle to compete against such a formidable magazine.
"Beyond Bedlam" by Wyman Guin — Everyone in society has Multiple Personality Disorder with two strong personalities. The treatment is to allow each personality to live on its own for five days at a time, and the rules of society forbid interacting with the worlds of one's own alternate personality. Each personality has its own name, its own job, its own spouse. Yet in the case of Bill and Conrad, who share a single body, their wives are within the same physical body. Bill's curiosity leads him into an interaction with Conrad's wife, and over time, it develops into an affair — something that the Medicorps would deal with severely if they found out.
Guin mistakenly uses the term schizophrenia throughout the piece, but there has been confusion between that and Multiple Personality Disorder for decades, so it's easily ignored. This is really an amazing story — highly imaginative and suspenseful. It pulled me along quickly and I couldn't tell where it would go; I just knew I wanted to find out. This was my favorite piece in the issue.
"Operation Distress" by Lester del Rey — During his return trip from Mars, Bill Adams notices a rash on his hands. It quickly spreads, and he's denied clearance to land on Earth. Instead, he's ordered to land on the moon, where a dedicated, risk-taking physician will assess his health. If Bill's carrying a new disease, it will likely kill both men.
One curiosity beyond the story: the byline had a typo of Lester del Ray. Oops. The logistics within the story felt very realistic. It's well-written with a nice pace. And it's interesting that a story with such a dire plot can have a genuine, light-hearted ending.
"The Pilot and the Bushman" by Sylvia Jacobs — Jerry is a master of marketing. In fact, he knows he can cover the alien ambassador's mistake of mentioning a Matter Repositor, a device that would essentially devalue everything because one could procure any object desired. So the ambassador strikes a deal with Jerry and the marketing man begins his campaign, struggling along on a million dollars a month retainer.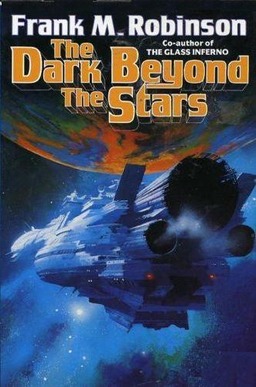 Jerry is an intriguing character — the classic salesperson who could strike any deal and promote anything. And he's shrewd. It's not a bad tale.
"Pictures Don't Lie" by Katherine MacLean — Nathen found a pattern within static from space and decoded it into video. That led to communications with an alien race. Now, the reporters and military wait at the landing site, hoping to be the first to witness the aliens' first arrival. And they continue to wait, even after the aliens claim to have landed.
I like the concept of receiving and interpreting signals from space, and the ending was a nice touch. I did feel that there was a bit too much emphasis on building tension, to the point that I felt like I was waiting right along with the story's characters — but not a good kind of waiting.
"The Fire and the Sword" by Frank M. Robinson — Templin and Eckert travel to Tunpesh, a planet with a primitive society. They investigate the suicide of the planet's attaché, a man who seemed unlikely to take his own life. If the attaché didn't commit suicide, then their task is to find out who killed him without becoming the next victims.
This is a good piece. It felt a bit like a detective story where they're slowly unraveling the clues and trying to understand what went wrong in a perfect society. Another aspect I enjoyed was the premise of "what's wrong with paradise" that didn't take away from paradise itself.
"A Little Journey" by Ray Bradbury — Mrs. Bellowes, along with other wealthy citizens, waits on Mars for Mr. Thirkell to make good on his deal to take her to God. With as much as she and the others have invested, they're all looking forward to riding a magnificent rocket into deep space.
Ah, Bradbury, such a brilliant writer, even with the shortest of tales. What more can I say? I've read quite a few of his stories in the past, but I don't recall one as humorous as this. It was a bit like a dark comedy at points, but highly amusing.
---
Matthew Wuertz's last retro review for us was the July issue of Galaxy Science Fiction.