New Treasures: The Harsh Suns by Jason E. Thummel
New Treasures: The Harsh Suns by Jason E. Thummel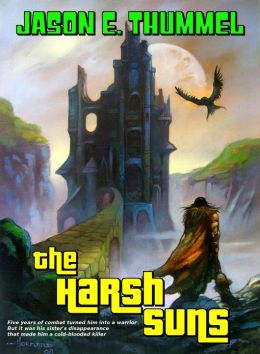 There I was, minding my own business, peacefully editing Connor Gormley's Robert E. Howard tribute "Who Took the Flowers Out of my Prose?" and listening to him grouse about modern prose, when suddenly Conner took an abrupt right turn and started praising Black Gate author Jason E. Thummel.
Unfortunately, modern fantasy seems, for the most part, to neglect prose. And that's a shame, because it means all those distinct literary personalities — the whimsy of Leiber, the melancholy of Moorcock, and the fury of Howard — are a thing of the past. Everyone seems to have adopted the same bland, middle ground style that isn't really anything above functional…

Don't get me wrong — there are a few standouts. I love Jason E. Thummel's prose…
Well, that was a pleasant surprise. We've published three tales from Jason E. Thummel in the past 12 months — including the debut story in the Black Gate online fiction line, "The Duelist," which Adventures Fantastic said "Set a high standard," and two stories of Gunnerman Clap, "The Gunnerman" and "Assault and Battery."
Apparently it takes more than that to stay on top of Jason, however. Looking for an image to accompany Conner's comments, I stumbled on the cover of Jason's new book: The Harsh Suns, a handsome collection of three sword & sorcery tales published earlier this year.
I immediately ordered a copy and it arrived just in time to accompany me on my plane ride to San Francisco last Wednesday.
Here's the back cover copy:
Five years as an enslaved conscript in a power-mad ruler's unending conquests had turned Khalidoc Va Navreen into a skilled warrior. But it was an act of religious persecution and the disappearance of his sister that turned him into a cold-blooded killer.

For Khal, all hope of his sister's survival is gone. There remains only to discover the guilty and deliver retribution — and he will stop at nothing to see it done. No matter the odds, no matter the obstacles, no matter where he must go, Khal will follow — until there is nowhere left to hide from his vengeance… under the Harsh Suns.

The Harsh Suns is a novella length collection bringing together for the first time the complete cycle of Khalidoc Va Navreen and his quest to avenge his sister. It contains the short stories "The Tower;" "The Harsh Suns;" and the novelette, "The Ascension of Arteman."
The Harsh Suns is a slim little volume (91 pages) with a terrific price — just $5.95, less than a standard-sized paperback. The digital version is just $2.99 — check it out at both Amazon and Barnes & Noble.
Jason E. Thummel is also the author of the collection In Savage Lands, and  the two novels chronicling the supernatural adventures of occult detective Lance Chambers, The Spear of Destiny and Cult of Death.
I hope you'll check out Jason's books and support a new writer doing great things in the field of modern S&S. I'm glad I did.
See all of our recent New Treasures here.