Lynne M. Thomas steps down as Editor of Apex Magazine
Lynne M. Thomas steps down as Editor of Apex Magazine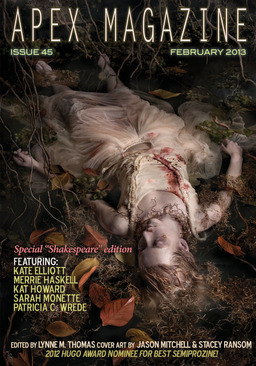 Lynne M. Thomas has resigned as editor of Apex Magazine, effective at the end of the year. She made the announcement yesterday on the Apex blog:
While the past two years of editing Apex Magazine have been deeply satisfying both personally and professionally, I will be stepping down as the Editor-in-Chief of Apex Magazine after the December 2013 issue. I'm in need of break, after which I'm looking forward to exploring new opportunities and projects. Managing Editor Michael Damian Thomas will be stepping down with me.

Publisher Jason Sizemore plans on continuing the magazine. Michael and I are working closely with the incoming editor to ensure a smooth transition…

I'd especially like to thank our contributors and readers. You've embraced us, and I just want to hug you all back. When we took over, we had no idea that the magazine would grow the way it did. We didn't expect two Hugo Award nominations.
Lynn has edited Apex since issue 30, when she took the reins from Catherynne M. Valente. The new editor has not been announced.
Apex is a monthly online magazine of science fiction, fantasy, and horror, published on the first Tuesday of every month.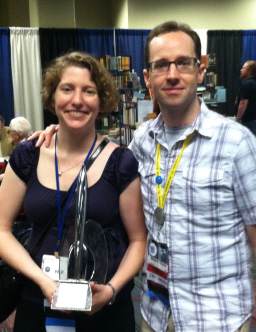 It was founded (as Apex Digest) by Jason Sizemore in 2005, and has published work by Neil Gaiman, Cherie Priest, Eugie Foster, Ben Bova, William F. Nolan, Mary Robinette Kowal, Saladin Ahmed, Genevieve Valentine, Amal El-Mohtar, Jeff VanderMeer, Seanan McGuire, and many others.
In 2008, the magazine switched to an online format and it was nominated for a Best Semiprozine Hugo in 2012. Two stories from Apex were nominated for the Nebula in 2010; the magazine's website is here.
Lynn has been one of the most successful small press editors to emerge in the field in the last few years. Her first book, Chicks Dig Time Lords (co-edited with Tara O'Shea) won a Hugo Award for Best Related Work in 2011; she won two more Hugos for her participation in SF Squeecast. Her recent books include Whedonistas (edited with Deborah Stanish) and Chicks Dig Comics (with Sigrid Ellis).
Lynn also serves as the Curator of Rare Books and Special Collections at Northern Illinois University.
Read Lynn's complete announcement here.