Gygax Magazine #2 Announced for Gen Con
Gygax Magazine #2 Announced for Gen Con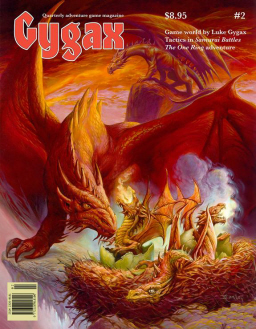 The second issue of Gygax magazine is now at the printer and will ship in time for Gen Con.
Holy cats, that's next week. This year Gen Con, the largest game convention in the country, takes place August 15-18 at the Indiana Convention Center.
We've been anxiously (and impatiently) awaiting the second issue of Gygax. I reviewed the fabulous first issue back in March and thought it was entirely successful at capturing the spirit of the earliest days of role playing, particularly the first issues of The Dragon, the magazine that shaped and guided the industry in the mid-1970s.
Gygax is a "quarterly adventure role-playing aid" that seems to be sticking more closely to an annual publishing schedule. As that sounds eerily similar to the eventual schedule for the print version of my own magazine, Black Gate, I'm just going to keep my mouth shut and not throw stones.
What I am going to do is peer closely at the pic of the Table of Contents recently published at the MTV Geek and see what I can make out. Looks like Tim Kask has an article on Tactics in Samurai Battles, Joy Libby looks at Hitchhiking in Doctor Who, Bryan Pope (Pipe? Page?) examines Building a Winning Spellbook for Mage Wars, and Vincent Flavio looks at The Old-School Renaissance.
That's about all I could get before my eyes gave out. I'll have to wait for the print version to discover the rest. For now, I'll enjoy that tantalizing Jeff Easley cover and keep an eye on the magazine stand at my local game shop.