Alan Snow's Worse Things Happen at Sea Released This Week
Alan Snow's Worse Things Happen at Sea Released This Week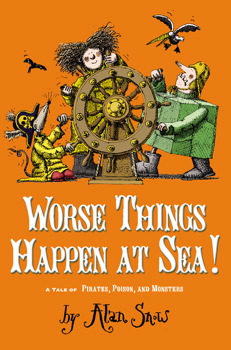 Alan Snow's first novel, Here Be Monsters, was the last book I read to my kids, some time in 2007. I used to read out loud to them every night — back when they all went to bed at the same time. These days, I can't even get them in one room at the same time. Teenagers.
I think I first became interested because of the artwork. Snow is the artist behind what may be the finest kid's book ever created, Don't Climb Out of the Window Tonight, and I can't tell you how many times I read that thing out loud. Over and over (and over). I think I still have it memorized. Don't climb out of the window tonight, because Frankenstein's gang is in the bushes. Man, that book is a surreal masterpiece.
Anyway, I think my kids really enjoyed Here Be Monters too. I know I sure did. Box trolls, cabbageheads, secret subterranean tunnels inhabited by races of underlings, catapults made of knickers, a mad inventor, and a hero who flies over the city at night using only a pair of wings and a box with a crank. It all came together to form a madcap adventure involving illegal cheese hunts, pirates, and the rats who run the Nautical Laundry. Seriously, he had me at "box trolls," that other stuff was just gravy. As a splendid bonus, Snow's delightful drawings of his bizarre and wonderful characters appeared on virtually every page, and added enormously to the book.
I enjoyed it so much that I really hoped there would be sequels. Shortly after it appeared, Amazon started referring to Here Be Monsters as The Ratbridge Chronicles, Book 1, which made me think, hey, I dunno, maybe.
In point of fact, additional volumes did appear: Worse Things Happen At Sea (Oct 2010) and Thar She Blows (coming in December 2013). Sadly, they only appeared in the UK, because everyone there reads Charles Dickens and watches Doctor Who, and hence are trained from birth to recognize awesome when they see it. But earlier this year, stop-motion studio Laika, creators of Coraline and ParaNorman, announced plans to film Here Be Monsters as their next feature (now titled The Boxtrolls) and suddenly American publishing realized it better get on the stick.
And so Worse Things Happen at Sea was published here on Tuesday, and I can finally order it without heinous overseas shipping charges. Which I will do. But first I think I'll dig up that battered copy of Don't Climb Out of the Window Tonight and read it one more time. Because gobins are in the bushes, and they mean business.
Worse Things Happen at Sea was published July 9, 2013 by Atheneum Books. It is 352 pages, priced at $17.99 in hardcover, and $9.99 for the digital edition.