Goth Chick News: New Music from Our Orchestral Crushes
Goth Chick News: New Music from Our Orchestral Crushes
Did you really think a Goth Chick would have a thing for One Direction or NKOTB? Okay, forget I even know who they are in the first place; there are some things you just cannot escape when you spend all your free time studying pop culture.
Nope, instead it is imperative that as purveyors of the dark and disturbing we crush on the equally dark and disturbing musicians who write and play tunes that worry people older than us and align with our own personal, parent-scaring idioms.
Which is precisely why I am Midnight Syndicate's devoted Chicago-area groupie.
Whether they like it or not.
For almost two decades, composers Edward Douglas and Gavin Goszka have been known as Midnight Syndicate, creating symphonic soundtracks for the secret dimensions of our minds' eye (cue lightning and thunder clap).
To many of their fans, they are Gothic music pioneers, brewing a signature blend of orchestral horror music and movie-style sound effects. To others, they remain the first "haunted house band" that forever changed the Halloween music genre and became a staple of the October holiday season.
And still others know them as the duo that teamed up with Hasbro and Wizards of the Coast to produce the first official soundtrack to the legendary Dungeons & Dragons roleplaying game, or the lucky devils who created the ear candy for Hugh Hefner's Playboy mansion Halloween bashes.
But the really lucky group of us know them as award-winning indy film makers (The Dead Matter) and hob-nobbers with movie types owing to their work having been featured in films, television shows, and video games;  but mostly because at their hearts, they are a couple of serious fan boys themselves.
And nothing pays more homage to Midnight Syndicate's original inspiration (or mine for that matter) than their upcoming sixteenth studio album.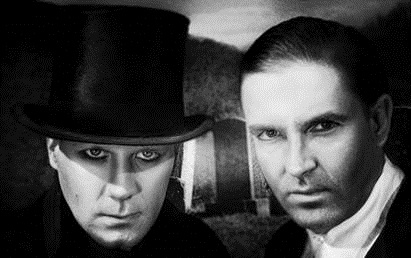 On July 19, Douglas and Goszka will release Monsters of Legend. This "tribute to the golden age of horror" will feature sweeping symphonic instrumentals and sound effects in the signature style the band pioneered. As the gentlemen of darkness themselves explain,
We want to make you feel like you are a character in one of those classic horror films – that you've entered a world where any one of the iconic characters from the Universal Horror and Hammer Films could be right around the corner.  Listeners will hear the influence of the Universal Monster, Hammer, and Euro Horror films from the 30s through the 70s, not only in the music but in the images the songs conjure.
Although the band promises the new disc will deliver the dark atmosphere haunted attractions, roleplaying gamers, and Halloween enthusiasts expect from them, they feel this new release transcends their favorite time of the year.
As we did on Carnival Arcane, we're always trying to take things up a notch both musically and with the sound design. There is a lot going on in this one. Plenty to pull you in, spark your imagination, and keep hold of you anytime you're looking to visit that mysterious place in your mind's eye.
The CD will be available for pre-order the first week in July and in addition to other new merchandise, Entity Productions Halloween Music will be releasing a special edition 12″ vinyl version of the Monsters of Legend album, hand-numbered and limited to 250 copies.
Couldn't you just d-i-e…?
Check out Midnight Syndicate at their web site or listen to samplings of their music at their YouTube channel.
Yoo hoo Ed, it's me Goth Chick – will you sign my autograph book… again???
Are you a fan of Midnight Syndicate's work or a hard-core boy-bander?  The former only is invited to post a comment or drop a line to sue@blackgate.com.