It's Dark Inside by Karen Heard
It's Dark Inside by Karen Heard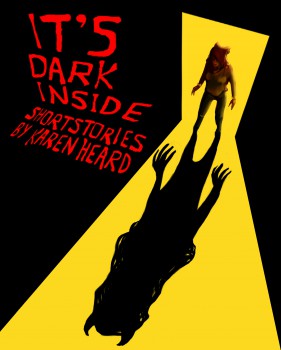 There's a sub-genre known as "quiet horror," an alternative to the explicit gore or overtly supernatural fare that's been prevalent in horror since the eighties. Charles Grant's much-praised Shadows series is one of the best examples you'll find of this type of writing. There aren't a lot of writers today who try this type of story and even fewer who succeed. Karen Heard is one of those rarely talented authors who can unsettle a reader without ever explicitly stating what has happened. It's Dark Inside is her first collection and these six stories are hopefully only the beginning of many more to come.
The collection begins with "The Lighthouse," a tale of isolation in the wake of some manner of unspecified disaster. "Snap" is set in what may be a not-too-distant future, wherein a photo-journalist is on a quest to find and photograph the last living elephant. "The Picture" is a different type of ghost story, where we learn about the things that can scare a man who is already dead. "Out of Order" surprises the reader by starting as one type of standard horror story before shifting into something very different as the reader is left unsure of not only what the "monster" is, but where exactly it is hiding. "The Promise" was a bit frustrating, as it depends on the protagonist not figuring out what is fairly obvious to the reader, but makes up for it with a wonderful twist ending. The collection wraps up with "Inside," a story that leaves the reader unsure if the protagonist is beset by a supernatural menace or merely losing her mind, still managing to surprise with an unexpected (yet in retrospect completely logical) solution.
It's Dark Inside is available in paperback for the low price of $6.50. For those of you on a budget, there's the even lower-priced e-book edition for only 99 cents. For those of you on an even tighter budget (come on, already), you can preview one of the stories, "The Lighthouse," on Ms. Heard's blog, Misheard Fiction. Check it out and then decide if one of the best quiet horror story collections you'll read this year is worth the cost of half a cup of coffee.