Goth Chick News: Walpurgisnacht, or Those Germans Know How to Party
Goth Chick News: Walpurgisnacht, or Those Germans Know How to Party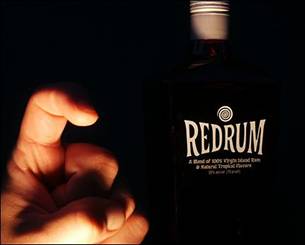 As you may (or may not) have noticed, there was no Goth Chick News last week. This was due to my need to spend a little quality time outside of the office with my blender and a bottle of Red Rum.
No I'm not making that up – Red Rum is for real and it's my fav and so much for those of you who thought this was all an act and I really spend my vacations in Branson, Missouri drinking ginger ale.
Beyond just sitting around soaking up sun and exploring the many different uses for a quality bottle of spirits, I was also deeply engaged in researching an interesting phenomenon that I only just discovered. The impetus was a Black Gate chat with a charming German fellow, who shared it with me just before sliding out of his lounge chair and out onto the deck… where he was promptly collected and hustled away before completing his tale, prompting me to order up another Red Rum and research this intriguing bit of info.
Apparently, the Germans celebrate their version of Halloween on April 30th and unlike the American version, the German take is decidedly "adult" and the "candy" involved is largely a euphemism.
The Walpurgisnacht festival takes its name from Walpurga of Devon, England, an abbess from the 700's who was canonized as the patron saint of rabies – yes rabies.
Though not one of the world's best-known traditions, Walpurgisnacht has cast a shadow over many works of Gothic art, literature and music over the centuries: for instance, it served as the night Bram Stoker chose for Jonathan Harker to meet Dracula.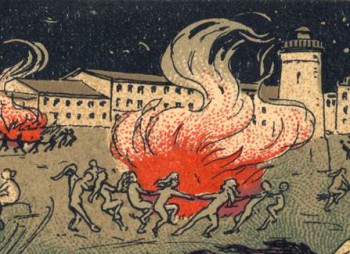 To better understand Walpurgisnacht's significance, it's helpful to examine it alongside its druidic cousin Samhain, better known today as Halloween. Samhain was a solstice ritual that celebrated the commencement of the darkest time of the year: winter. That meant that shorter, gloomier days, scarce food supplies, sickness, and death lay ahead.
Likewise, the dismal season's conclusion called for a rite to commemorate an end to that darkness, which the druids called Beltane – a spring ritual that took place exactly six months after Halloween. Beltane spread with the druids across Europe and eventually found a home in Germany.
However, in 800 AD, Christianity also arrived in Germany, via Charlemagne and the Saxon War.
In spite of the Christians attempting to take the fun out of paganism, the Saxons managed to keep their holiday; but like Halloween, the Catholic Church unsuccessfully attempted to phase the celebration out by replacing it with a day of veneration on the following morning: The Feast of St. Walpurga (equivalent to All Saints Day on November 1st).
And just like All Saints Day, the Feast of St. Walpurga proved to be nowhere near as fun as Beltane. Thus Walpurgisnacht – the night before the Feast of St. Walpurga – haunted Germany long after its intended replacement was instituted.
I found there are quite a few differing opinions as to what exactly took place during Walpurgisnacht, but most agree that it was, to some extent, a witches' Sabbath. It's been said that witches would dance naked around a large bonfire before copulating with demons.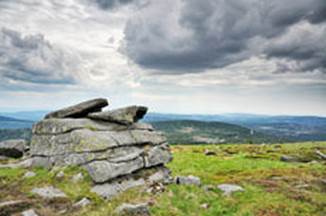 Even more outlandish accounts claim that Walpurgisnacht was in fact a Black Sabbath during which witches flew via broomstick to a secret location where they were joined by the Devil for worship.
One can understand how the feast for the patron saint of rabies had a hard time competing…
Most of the folklore is situated in the region around the highest point of the tallest mountain in Northern Germany known as the Brocken, a giant craggy peak blasted by turbulent weather. On its summit are two granite formations called the Witches' Altar and the Devil's Pulpit.
Today the area is the location of the largest Walpurgisnacht celebrations in Europe, with over 20,000 tourists visiting during April alone.
Dr. Harold Watzek, who has been a guide in the area for more than 20 years, explains,
Days before and after Walpurgisnacht, the towns are decorated with witch and devil dolls. The biggest celebrations take place in Schierke, under the Brocken.  However Walpurgisnacht is celebrated everywhere in the region. All the women dress up as witches and all the men as devils. During these parties, at midnight, Mephistopheles comes out and greets the guests and shortly after a May Queen is elected.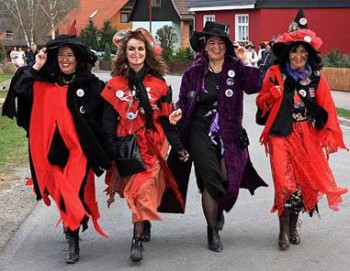 Bonfires are lit throughout the farmland, much beer is consumed, and the costumed revelers party late into the night to the tune of visiting rock bands. When translated, one site for the night's celebrations reads as follows:
In keeping with the spirit of the holiday, Couple Cups has generously offered all guests who appear in Halloween costumes or full Goth attire 15% off their beverages for the night. (And by "full Goth attire" please be aware that a simple Marilyn Manson T-Shirt will not suffice, unless accompanied by at least 30 piercings…we intend to count carefully…) This is a full-on Walpurgis Night Party, and we want everyone looking their excessive best!
So just when it seemed the Halloween season was oh-so-far in the distant future, we discover that only a short plane ride away is all the spooky fun we could possibly wish for – in warm, spring weather no less.
I set aside my glass, careful not to drop the umbrella-skewered pineapple and stare dreamily at the German's vacated deck chair.
Today is April 25 – there's still time to book…
*Note: a special thanks Lonely Planet – Germany, WorldNomads.com, Expatia.com, The North Coast Journal, Before It's News, Rue Morgue and an anonymous over-served German tourist for providing information for this post.