New Treasures: Death Watch, by Ari Berk
New Treasures: Death Watch, by Ari Berk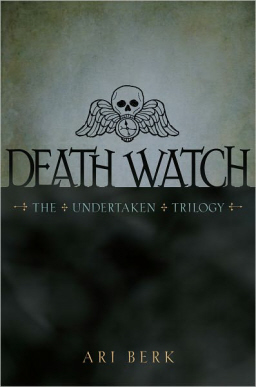 I live in a house with three young adults, all fairly active readers. When one discovers an intriguing new fantasy series, it gets passed around excitedly. That happened with Christopher Paolini's Eragon books, Stephanie Meyer's Twilight, Suzanne Collins's Gregor The Overlander and The Hunger Games, and John Flanagan's Ranger's Apprentice books.
The latest book to get discussed and passed around is Ari Berk's Death Watch, the first installment in The Undertaken Trilogy. It's too early to determine if this will captivate all three the way previous books have, but early indications are good.
They say the dead should rest in peace. Not all the dead agree.

When Silas Umber's father, Amos, doesn't come home from work one night, Silas discovers that his father was no mere mortician, but an Undertaker who worked to bring The Peace to lost and wandering souls. With Amos gone, Silas and his mother move back to Lichport, the crumbling seaside town where he was born, and Silas seizes the opportunity to investigate his father's disappearance.

When his search leads him to his father's old office, he comes across a powerful artifact: the Death Watch, a tool that allows the owner to see the dead. Death Watch in hand, Silas begins to unearth Lichport's secret history — and discovers that he has taken on his father's mantle as Lichport's Undertaker. Now, Silas must embark on a dangerous path into the Shadowlands to embrace his destiny and discover the truth about his father — even if it kills him.
Death Watch was published November 27, 2012 by Simon & Schuster Books for Young Readers. It is 560 pages in trade paperback, priced at $9.99 ($8.89 for the digital edition). The second volume of The Undertaken Trilogy, Mistle Child, was published Feb 12.