Goth Chick News: The Haunted Mansion Gets the del Toro Treatment
Goth Chick News: The Haunted Mansion Gets the del Toro Treatment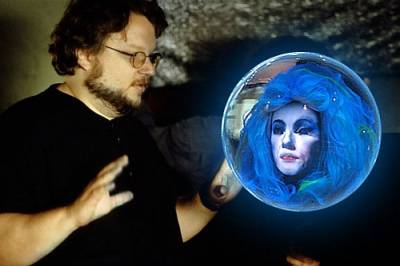 Among the laundry list of scary projects Guillermo del Toro currently has his name attached to (including the recently-released, love-never-dies horror flick Mama, a creepy version of Pinocchio, and the-house-is-haunted-get-the-heck-out Crimson Peak), is the somewhat exciting news of a reboot of The Haunted Mansion.
This would be Disney's second attempt at adapting my all-time favorite Magic Kingdom attraction for the big screen; the first being that train wreck of a 2003 effort starring Eddie Murphy and let's say no more about it.
Back in 2011, Del Toro was rumored to be writing a script, but little has been heard about it since. However, during an interview earlier this week with MySpill.com, del Toro confirmed that the new Haunted Mansion is happening.
Haunted Mansion is very much alive and in process. Disney is very supportive and we are doing another draft of the screenplay… Yet another draft… And they really want to do it. I know we're going to talk about other possible directors, for me to produce, and having written it, produce it for somebody else. It's going to be scary. Hopefully it will be fun scary, rather than funny scary. It's going to be fun but the idea is to make it scary like when you go through the ride as the kid – part of you is charmed and part of you wants to get out of there.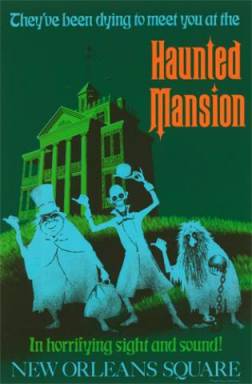 Del Toro went on to say that he's aiming for a PG-13 rating for the film, at the least.
Fun fact about del Toro: he's obsessed with Disney's Haunted Mansion ride (and who isn't?)  It's to the point that he has been collecting vast amount of artifacts and memorabilia from the ride for the past 10 years, and is planning on using its little-known cult-favorite character the Hat Box Ghost as his movie's villain. It's easy to see why a chance to work on The Haunted Mansion is a dream-come-true for the director.
We went through a lot of the original art for the design of the mansion, we went to the Disney archives and I really would have loved to have done a little bit of swindling, but I was being watched.  We explored the mansion by foot at 5am in the morning. We took two hours, went behind the scenes. I went insane. It's one of the happiest days of my life.
Rich Ross, Chairman of The Walt Disney Studios, remarked,
Millions of people from around the world visit The Haunted Mansion each year, but no one has ever had a tour like Guillermo del Toro. Guillermo is one of the most gifted and innovative filmmakers working today and he is going to take audiences on a visually-thrilling journey like they've never experienced before.
It will be interesting to see what del Toro does with The Haunted Mansion. Being based on an iconic Disney attraction will make it a natural draw for the youngsters and yet it can't be a repeat of the travesty inflicted on the movie viewing public back in 2003.  Personally, I'm hoping for an outcome that is at least as dark and disturbing as Pan's Labyrinth though that fairy tale ended up with an "R" rating.
So what do you think?  Good idea or pending disaster?  Post a comment or drop a note to sue@blackgate.com.