Analog, July 1961: A Retro-Review
Analog, July 1961: A Retro-Review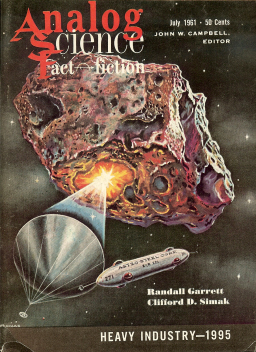 This is one of the earlier issues after Astounding completed its name-change to Analog. (The issues from February through September 1960 showed both titles on the cover – so October 1960 was the first purely Analog issue.)
Its Table of Contents is familiar to readers of the magazine even to the present day – there's an editorial, there's In Times to Come, there's The Reference Library (book reviews), there's the letter column (Brass Tacks). There is also a Science Fact article, and a serial, two novelettes, and two short stories.
The only item you won't find in most present-day issues is The Analytical Laboratory, which ranks the stories from the issue two months earlier based on reader votes. (This was discontinued some time after I became a subscriber in the '70s – I remember sending in my postcard with my votes a number of times.)
At any rate, for the April issue the number one story was the opening of Clifford Simak's serial "The Fisherman", better known these days by the book title, Time is the Simplest Thing.
The cover shows an asteroid mining setup. It's by Thomas, who did a few covers for Analog in 1961 and 1962, and nothing much else I can find. I don't even know his first name. Interiors are by Douglas, John Schoenherr, and H. R. Van Dongen.
[Click on any of the images in this article for larger versions.]
The editorial is called "Sometimes You Can't Win", and, as often, John W. Campbell is being somewhat controversial. His thesis here is that the reason Africa, particularly the Congo, is* in such bad shape is that the locals – or at least those outside the cities – are resistant to Western education.
Campbell actually makes some good points, about, in essence, the way Cultural Imperialism can be counterproductive, though I think his generalizations about Congolese tribal life look rather broad, and based a bit more on cliché than on actual first-hand knowledge.
(*Present tense here, of course, is relative to 1961.)
The opening novelette is Randall Garrett's "A Spaceship Named McGuire" (15200 words). A troubleshooter is hired to solve two problems for Mr. Ravenhurst, a leading spaceship manufacturer. One problem is that his new model spaceship, controlled by an AI (named McGuire, rather tritely as an abbreviation for the model number), has a problem – the AI keeps going insane. The other problem is that his daughter is intractable, and needs a bodyguard to make sure she gets to finishing school.
That the two problems are related is not a surprise – alas, the rather sexist working out of things is not a surprise either. This story had promise for a while, but flattened horribly at the end.
Next is "Tinker's Dam", by Joseph Tinker (7200 words, and listed as a novelette – unusually short for Analog). The main character is also named Joseph Tinker, and this is the only story Tinker ever published, making me think the name might be a pseudonym.
(Turns out this is the case – the story is by John Berryman, who wrote quite a few SF stories, many for Astounding/Analog, beginning in 1939 and extending to the early '60s with an odd outlier in 1986, most of them as by "Walter Bupp" — and who, it should be noted, was no relation to the somewhat famous poet of the same name.)
Said main character is a Gypsy, nickname Gyp (!), who works for the Federal government, tracking down telepaths, because of the gruesome danger they represent. Tinker has his own special talent – the ability to close his mind to telepaths, which makes him a natural for this job.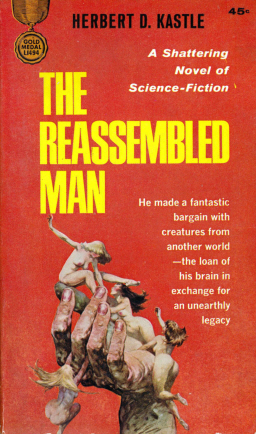 This story concerns two problems for him – a perhaps overly ambitious subordinate and a woman telepath who has been captured, and who he will be required to order the summary execution of.
The twist, of course, lies in the identity of the woman – and in what that reveals about Joseph Tinker himself. All seems to turn on an excessively draconian policy … but there's a twist there too of course. It's not an awful story, also not a particularly good one, and it serves best perhaps as this issue's clearest exemplar of one of Campbell's most overriding obsessions.
Herbert D. Kastle's "The First One" (4300 words) deals with a man returning from a journey to a new frontier, and encountering, instead of welcome, suspicion and fear, even from his own family. The reason is, it turns out, the specific frontier he crossed … not a bad story, not an implausible psychological reaction, but all in all fairly minor.
Kastle only published a few SF stories, in If, Galaxy, and Amazing, as well as Analog, between 1955 and 1963; a few articles in Startling Stories (for which he served as editor toward the end of its run); and one novel [The Reassembled Man (1964), expanded as Edward Berner is Alive Again! (1975).] However, he did a lot of work outside the field, including Westerns, mysteries, and comics.
The other story is from Christopher Anvil: "The Hunch" (5300 words). Stellar Scout James Connolly is assigned to figure out why two new model scout ships have disappeared recently. Pirates are suspected, but the route they were taking avoided known pirate haunts.
He and his boss set out to follow the same route, and in so doing they encounter issues with the advanced new equipment on the new model ship … more or less the sort of mildly amusing stuff I expected.
The rest of the fiction content is the last 18000 or so words of Simak's "The Fisherman." As I noted above, I've read it before as Time is the Simplest Thing with considerable enjoyment.
The science article is "Hell's Own Problem", by Harry D. Porter, about materials design challenges for withstanding the high temperatures of rocket exhausts (of some interest to me as my current job involves work on new rocket technology).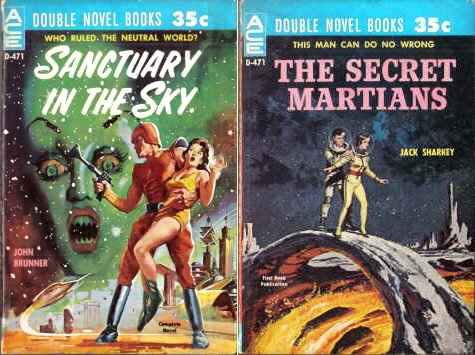 P. Schuyler Miller's book review column, The Reference Library, begins by discussing a book called Rival Theories of Cosmology, which addresses the then-version of the Big Bang theory as well as the Steady State theory. The other reviews include two of Robert Sheckley's books: The Status Civilization (a novel) and Store of Infinity (a collection); and two Gordon Dickson books (The Genetic General aka Dorsai!, plus Time to Teleport).
Also, Murray Leinster's The Wailing Asteroid, and an Ace Double featuring John Brunner's Sanctuary in the Sky backed with Jack Sharkey's The Secret Martians.
And: Spacehive, by Jeff Sutton; The Fifth Galaxy Reader; edited by H. L. Gold, Twilight World, by Poul Anderson; Collision Course, by Robert Silverberg ("one of Bob Silverberg's better adventure stories"), and another Ace Double (one that I have read): The Puzzle Planet by Robert A. W. Lowndes, backed with The Angry Espers by Lloyd Biggle Jr.
Nothing much to take away from his reviews … it's just interesting to me to see that list of then contemporary books.
Brass Tacks, the letter column, includes as usual a long selection, mostly addressing recent non-fiction columns, including some discussing a G. Harry Stine article on space drives, and some discussing an article about the "Four Faced Visitors of Ezekiel" (Ezekiel's vision being a long favorite source for SF readers to speculate about possible aliens), as well as some discussing Campbell's previous editorials.
[See all of Rich Horton's Retro-Reviews here.]