Adventure on Film: The Horseman On the Roof
Adventure on Film: The Horseman On the Roof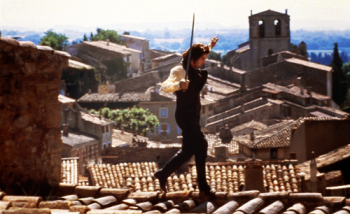 I didn't know it at the time, but back when I was ten and surfing through horrendous Tarzan movies on rainy Saturday afternoons, The Horseman On the Roof (Le Hussard Sure le Toit, 1995) was the film I was actually hoping to see. Not that I would have understood much of what was going on, but the kinetic energy of it –– the film's unswerving certainty that these events matter –– would have transported me right out of my seat.
Better yet, it still does. Horseman opens with a kidnapping and an execution, then tears off on a cross-country pursuit. Nor does the pace slacken. Director Jean-Paul Rappeneau fills even potentially tranquil moments –– a patriot hurriedly donning his overcoat, a restless horse being chosen by torchlight –– with kinetic punch. Horseman is a period piece, make no mistake, but it is also an action movie, and a great one.
True, there's no overt fantasy element –– beyond the ready fictionalization of history necessary to the telling –– but Horseman is a six-course meal with all the trimmings: call it sword and sorcery without the sorcery.
Based on the eponymous French novel by Jean Giono (1895-1970) and adapted by Rappeneau and two others, the story follows Angelo (Olivier Martinez), an Italian expatriate hiding out in France but desperate to return to Italy and spur the revolution. The one thing he cannot do is stay put. As Angelo writes early on, "Dear Mother, you wanted me to live recklessly. Today, I would make you proud. Once again, I am fleeing." The posse of bounty hunters on his heels is by no means the worst of his problems. Cholera has come to France, killing fast and indiscriminately. In the words of a village doctor, it is "the greatest epidemic ever."
Horseman is no horror flick, but it explores that genre's many gothic tropes through the frequent advent of crows and semi-deserted ruins, then lowers the boom with its stern attention to the details of cholera –– the dizzying speed of its onset, the way the afflicted shudder and clench –– and the results are highly disturbing.
The film, without ever pushing an agenda, carefully assesses the role of the revolutionary, of insurgent and counter-insurgent, of law, of order, and of national pride. In another letter to mother, Angelo writes (or perhaps it's Rappeneau and his screenwriters, musing aloud) "Mother, I never realized that revolutions require money."
So they do, but observations such as this never descend to the level of a screed. Instead, what reflections Horseman offers show us a young, self-centered revolutionary growing up –– and in so doing, he wins the heart of a woman well worth the winning.
Even at age ten (and stuck with a yodeling, black & white Tarzan), I know that idea would have held massive appeal.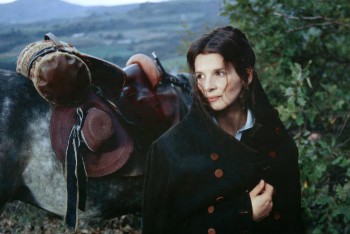 Yes, there are guns, so sword and sorcery purists may find cause for complaint, but by and large, the flintlocks and muskets tend to misfire or just plain miss. The real work of both hero and heroine (Juliette Binoche, at her instinctive, resolute best) is to survive by their wits. To this end, and in the spirit of Richard Lester (A Hard Day's Night, The Three Musketeers), Angelo employs whatever weapons are at hand: saddles, sticks, even the sun. His sheer determination is a wonder to behold, one that (to misapply the Bard) lights the brightest Heaven of invention.
Subtitles and all (which I admit up front I do not mind in the least), this is a sleeper not to be missed.