Goth Chick News: Gird Your Loins
Goth Chick News: Gird Your Loins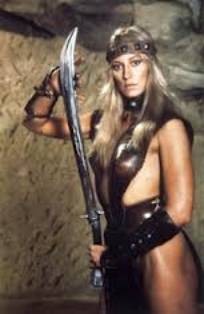 I am a huge fan of the 1980's Conan movies.
Even a goth chick needs the occasional change of pace, though this one in particular goes back a ways.
When most little girls were playing with Barbie dream houses, I spent my time whacking the neighbor kids with a plastic sword pretending to be the barbarian warrior Valeria. To this day, one of my most prized possessions is my personally autographed photo of Sandahl Bergman, who played Valeria in the first film, Conan the Barbarian.
Had Mattel made Barbarian Warrior Barbie with body armor and a head-on-spike accessory, things may have turned out differently.
Instead here I sit, somewhat giddy to tell you that we're finally going to get the rest of Conan's story.
As we reported here on Friday, after 30 years Arnold Schwarzenegger is returning to the iconic role that put him on the path to stardom. If you recall, we exited the first film on a narrative by the wizard Akiro:
Conan returned the wayward daughter of King Osric to her home. And having no further concern, he and his companions sought adventure in the West. Many wars and feuds did Conan fight. Honor and fear were heaped upon his name and, in time, he became a king by his own hand… And this story shall also be told.
And so it shall.
The Legend Of Conan, currently targeted for a summer 2014 release, will tell the story of how Conan becomes king. Schwarzenegger previously played the hulking swordsman, a character created by Robert E Howard, in 1982's Conan The Barbarian and 1984's Conan The Destroyer.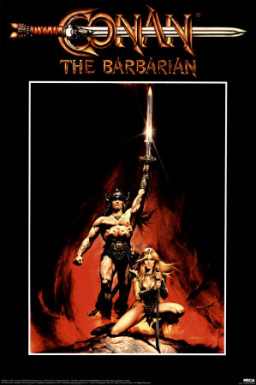 The Legend Of Conan is being produced by Fredrik Malmberg, whose company Paradox Entertainment owns the rights to the character, and screenwriter Chris Morgan, whose scripting credits include Wanted and several Fast & Furious films. Morgan has concocted the story for the new Conan movie and may write the script.
Producer Fredrik Malmberg says:
The original ended with Arnold on the throne as a seasoned warrior, and this is the take of the film we will make. It's that Nordic Viking mythic guy who has played the role of king, warrior, soldier and mercenary, nearing the last cycle of his life. He knows he'll be going to Valhalla, and wants to go out with a good battle.
If you recall (and you may well not), a reboot called Conan The Barbarian was released in 2011 starring Jason Momoa in the title role. However, the film flopped at the box office and Momoa will not feature in the new Conan movie.
We could have called that one. No one can play a monosyllable blood-letter like Arnold.
Instead, the new movie is conceived as a follow-up to Schwarzenegger's original 1982 appearance as Conan. Morgan told Deadline:
This movie picks up Conan where Arnold is now in his life, and we will be able to use the fact that he has aged in this story. I love the property of Conan so much that I wouldn't touch it unless we came up with something worthy. We think this is a worthy successor to the original film. Think of this as Conan's Unforgiven.
Meanwhile, Schwarzenegger added:
I always loved the Conan character and I'm honored to be asked to step into the role once again. I can't wait to work with Universal and the great team of Fredrik Malmberg and Chris Morgan to develop the next step of this truly epic story.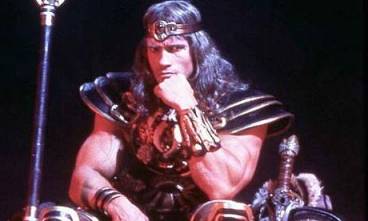 Sadly, Valeria went to Valhalla in the first film so Sandahl Bergman probably won't be armoring up with Arnold again — unless it's in a ghost sequence, which would indeed be awesome for more reasons than one.
Back in 1982, Bergman and Schwarzenegger participated in each other's first ever on-screen love scene. And in the summer of 2011, when I had the opportunity to ask Bergman if she'd ever had the chance to see what Conan kept under his leather loin cloth for real, given Schwarzenegger's womanizing reputation even back then, she simply gave a wry smile and declined to comment.
Both are currently divorced. I'm just sayin'…
Are you excited to see Arnold reprise his role as an aging Conan? Post a comment or drop a line to sue@blackgate.com.