September/October Fantasy & Science Fiction Magazine now on Sale
September/October Fantasy & Science Fiction Magazine now on Sale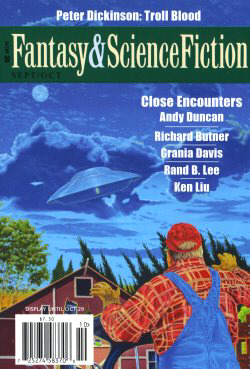 Andy Duncan gets the cover this issue for "Close Encounters," a rural tale of alien abduction. Here's what Lois Tilton says about it in her review at Locus Online:
Old Buck Nelson claims he doesn't want to be bothered by reporters, even pretty girl reporters, sniffing around after the stories he used to tell about the alien who took him up to Mars and Venus and the dog he brought back with him. No one cares anymore, no one believes him. But now they're making a movie and people are interested…

A really strong character, a narrative voice with strong authenticity, a strongly-realized setting. And a perfect ending to it all – RECOMMENDED.
Here's the complete Table of Contents:
NOVELETS
"Close Encounters" – Andy Duncan
"The Sheriff"  – Chet Arthur
"12:03 P.M." – Richard A. Lupoff
"The Goddess" – Albert E. Cowdrey
"Arc" – Ken Liu
"Troll Blood" – Peter Dickinson
SHORT STORIES
"Give Up" – Richard Butner
"A Diary from Deimos" – Michael Alexander
"Where the Summer Dwells" – Lynda E. Rucker
"Theobroma Valentine" – Rand B. Lee
POEMS
"Contact – Sophie M. White
The cover price is $7.50, for a generous 258 pages. Additional free content at the F&SF website includes book and film reviews by Charles de Lint, Chris Moriarty, and Kathi Maio; Paul Di Filippo's Plumage From Pegasus column, "Call Me Ishmael"; and the "Curiosities" column by Chris De Vito. Cover artist this issue is Kent Bash. We last covered F&SF here with the July/August issue.