Twilight Sector Kickstarter
Twilight Sector Kickstarter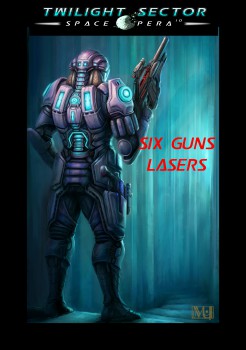 If you're a gamer, you've probably heard of the renowned Traveller role-playing game of science fiction in the far future. And if you've played Traveller recently, you MAY have heard of the work from Terra/Sol. If not, you should have. I've been raving about each of their products that I've reviewed for Black Gate because they're inventive, engaging, and well-written.
Today, I'm turning over the site to Mike Cross of Terra/Sol so he can tell you about a new Kickstarter project and the alternative Traveller setting used for all of their products.
I asked Mike to describe the game setting a little, and then he describes the new Kickstarter. The one thing he doesn't mention here is that it's going to be authored by one of my very favorite RPG authors, Martin Dougherty. I scramble to read everything that the man writes! Anyway, take it away, Mike:
Welcome to the raggedy edge of human space, the Orion Frontier. This is the edge of human exploration. Rimward from here: There be Dragons! No star chart or encyclopedia tells us what lies beyond, only the whispered tales of scouts and pirates provide us myth-inspired answers.

The Twilight Sector Campaign from Terra/Sol Games is a science fiction setting specifically designed to tell stories across a wide range of mediums. These include role-playing games, fiction, comics and electronic games. The setting seeks to provide a level of detail reminiscent of "Known Space" or "Middle Earth". The tone is of Transhumanist evolution against a grand space opera background of far flung planets and stellar nations stretching over a 1,000 light year canvas. With 26 products in the last three years Terra/Sol Games has painted an ever evolving picture of this setting.

The Twilight Sector is a playground where you can examine artificial intelligence, human mutation both natural and artificial, and societal and technological evolution, all against a backdrop of a coherent and deeply immersive history. Aliens are rumors, their ancient ruins providing humanity with tantalizing hints to what might have once been, but they are not extant to get in the way of telling deeply human stories.

Terra/Sol has just launched a Kickstarter project for the latest book in the Twilight Sector Setting, Six Guns Lasers. This laser themed book will cover weapons and more, exploring this staple of science fiction. You can help bring this book to completion by supporting the Kickstarter campaign. We offer as rewards everything from access to the project's developer forum to the opportunity to suggest art for the book and receive a signed copy of what is created from your suggestion!