Apex Magazine #40
Apex Magazine #40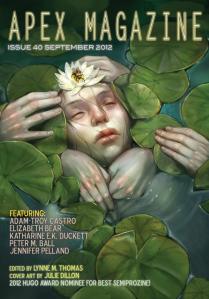 Apex Magazine turns 40 with its September issue, featuring  "During the Pause" by Adam-Troy Castro (who is interviewed by Maggie Slater), "Sexagesimal" by Katherine E. K. Duckett, "Sacrifice" by Jennifer Pelland, and "Sonny Liston Takes the Fall" by Elizabeth Bear (reprinted from The Del Ray Book of Science Fiction and Fantasy, a review of which you can read here) . Cover art by Julia Dillon. Nonfiction by Peter M. Ball and editor Lynne M. Thomas.
Apex is published on the first Tuesday of every month.  While each issue is available free online from the magazine's website, it can also be downloaded to your e-reader from there for $2.99.  Individual issues are also available at  Amazon, Nook, and Weightless.
Twelve-issue (one year) subscriptions can be ordered at Apex and Weightless for $19.95; Kindle subscriptions are available for $1.99 a month.