Subterranean Press Announces $2.99 e-Book Sale
Subterranean Press Announces $2.99 e-Book Sale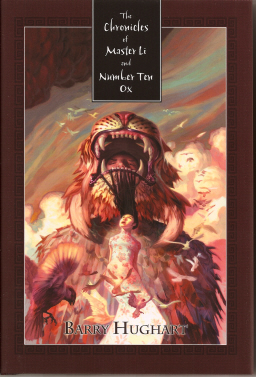 One of our favorite small press publishers, Subterranean Press, have announced an impressive sale on more than 60 digital titles.
Until the end of September, all Subterranean Press digital books are available for $0.99 to $2.99, including work by Kelly Armstrong, Peter S. Beagle, Elizabeth Bear, James P. Blaylock, Peter V. Brett, Ted Chiang, Robin Hobb, Barry Hughart, Joe Lansdale, Thomas Ligotti, Brian Lumley, Robert McCammon, Jack McDevitt, Cherie Priest, Mike Resnick, John Scalzi, Lucius Shepard, Lewis Shiner, Robert Silverberg, Dan Simmons, Peter Straub, Michael Swanwick, and Connie Willis.
This includes some classic works of fantasy, such as the 3-novel omnibus The Chronicles of Master Li and Number Ten Ox by Barry Hughart, containing the World Fantasy Award-winning Bridge of Birds and both of its sequels; Ted Chiang's Hugo-Award winning novella The Lifecycle of Software Objects; and his Hugo and Nebula award-winning novelette The Merchant and the Alchemist's Gate.
It also includes the classic Grimscribe and Noctuary by Thomas Ligotti, the 500-page omnibus edition of The Adventures of Langdon St. Ives by James P. Blaylock, and The God Engines by John Scalzi.
Short fiction lovers have several excellent choices, including The Best of Lucius Shepard; The Collected Stories of Robert Silverberg, Volumes One through Four; In the Beginning: Tales From the Pulp Era by Robert Silverberg; The Best of Michael Swanwick, Cryptic: The Best Short Fiction of Jack McDevitt; The Juniper Tree and Other Blue Rose Stories by Peter Straub; and a collection of Connie Willis's Christmas stories, All Seated on the Ground.
Subterranean Press eBooks are completely DRM-free. You can find a complete list of available titles here.